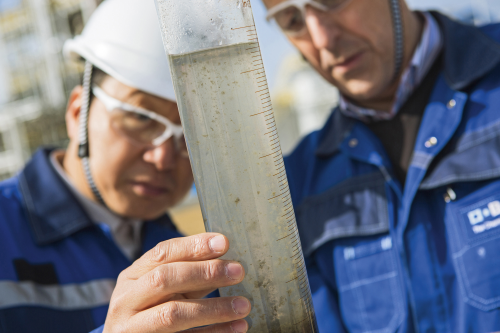 In January this year 80 journalists travelled to Munich to meet with around 70 companies preparing to exhibit at this year's IFAT show. The event was a preview of the exhibition which will be held over five days, May 5-9, in the German city.
Organisers chose the special preview to announce that IFAT 2014 was now fully booked, with 3,000 exhibitors scheduled to attend in 230,000m² of exhibition space.It was also announced that the showcase will also host Germany's GreenTec Awards – billed as 'Europe's largest environmental and business prize' – with many of the exhibitors who attended the preview entering the competition. GreenTec's awards night will be staged on the eve of IFAT itself.
The preview itself attracted some of the major names who will attend in May, including BASF, which launched its new cationic powder flocculant range with Zetag Ultra for high dewatering performance at low dosage rates at the preview event.
"We've developed this because we saw a special market need,'' said Marcus Fuest, BASF global industry marketing water solutions, who attended the media dialogue especially to launch the solid/liquidation separation advance.
"Today's industrial and municipal water treatment plants are challenged to achieve maximum performance under increasing cost pressure.
"Zetag Ultra has proven its excellent performance in a variety of extensive plant trials worldwide.Our customers report that cake solids of dewatered sludge increased on average by 15%, which is a step-change. Other customer cases show a significant dose saving of up to 20%."
Mr Fuest said the company was advantaged because it could 'bundle' its expertise in its various divisions into business-facing units, and market solutions to those who need them.
Matthias Halusa, vice president of BASF's Water Solutions business, commented: "The introduction of Zetag Ultra is an important milestone for positioning BASF as a leading provider of innovative chemical solutions in the water industry worldwide, supporting sustainable natural resource management.
"Ultrafiltration technology specialist Inge, which became part of BASF in 2011, will also have a presence at IFAT, and will be highlighting its Multibore membrane solution.
Grundfos was equally newsworthy, with its plan to launch 'new key developments' to its Optomised Water Solutions at IFAT."We are raising the bar for sustainable product solutions within energy efficiency and water,'' said Tao Bindslev, Grundfos's group vice president.
A new 'Demand Driven Distribution Controller' helps reduce water leakage losses and gives 'unbeatable efficiency'. Building on its 2012 IFAT launch – the company's SE/SL heavy duty wastewater pumps with S-tube impeller – the business will reveal a new range extension within the SE/SL portfolio at this year's event.
Grundfos confirmed it plans to have its improved KPL and KWM Axial and mixed flow pumps for flood control applications on show. The company's new Turbulence Optimiser for these pumps increases efficiency by 2%, Grundfos claims, and delegates at the exhibition will be able to see these as two-metre-high KPL pumps at the company's stand.
Grundfos also reported that it has developed the Grundfos KLP Pump App, for free download from Apple – the Google Play version is coming soon, the company has said – to show how the pump's features provide benefits to customers and IFAT attendees are invited to Grundfos's stand to have their picture taken beside the 'augmented reality' pump.
Alfa Laval, the global provider of specialised engineering solutions, will highlight its Iso-Disc cloth media filters which allows for high-quality effluent and its screw press for effective sludge dewatering.
The Iso-Disc is a new product from the company, based on technology from US-based Ashbrook Simon-Hartley which Alfa Laval acquired in 2012. The filters capture solids to 10 microns in size, without having to build up a filter mat and without any run-in time, making it possible to achieve a high-purity, reuse quality filtrate.
At the preview Brian Munch, general manager environment, was keen to emphasise that the company could deliver solutions to a wide range of projects. This includes the company's Screw Press units which allow separation to take place inside an inclined drum fitted with a set of wedge wire screens forming a cylinder wall. Against this sludge is pressed and transported by an internal screw conveyor, and a small electric motor powers the screw conveyor through a high-torque gearbox, making it turn slowly and allowing for an efficient performance with the lowest possible energy consumption.
Producer of the Viledon water solutions and wastewater treatment brand, Freudenberg, was also actively publicising its IFAT presence at the preview.
Speaking for the German-based business, Jürgen Abt, director of water solutions, said the company's two-year-old drive to diversify the business further when it bought UK-based Aquabio, was going well, and the acquisition had given extra funds for Aquabio to bid and invest in large developments, including large water municipal water treatments projects in Essex.
Mr Abt was hopeful of a placing at the GreenTec awards with its entry of Aquabio's low-energy cleaning of wastewater in one of the energy-saving categories, and he confirmed that its work with Aquabio would be seen for the first time at IFAT.
Nivus, the provider of instruments for the water industry, will highlight the completion of its 'Mini' series of by-flow sensors with built-in flow level detection via pressure cell.
Due to considerable economic measurements made in the drinking water sector, the discharge volumes within sewage networks has decreased significantly, said Martin Mueller, head of Nivus's marketing communications department. The impact of these measures is far-reaching, he commented, and the consequences can be directly noticed in lower flow levels during flow measurements in channel networks. Some of the results include a higher risk of sedimentation and stronger effects of hydraulic disturbances at low flow levels.
Nivus has responded to this with the Mini sensor. Due to its compact construction, as well as particular algorithms, flow profiles can be detected reliably starting at flow levels as low as 3cm.
The complete "Mini" sensor series consists of a dedicated flow velocity sensor featuring a minimum overall size. An external ultrasonic sensor installed in the channel crownis used for level measurement. This sensor combination is particularly suitable for infiltration measurement (extraneous water).
Its new combi-sensor, with its integrated flow velocity and level measurement, is perfectly matched for precipitation discharge measurement, said Nivus, since it is able to simultaneously detect overflow events when they occur.BASF chose to unveil its new cationic powder flocculant range at the press preview.Due to the high degree of accuracy of the entire measurement system the sensors can be used in many areas of use, such as measurement points for billing and intake control, the company said. 
Ottmar Lasser, director of telematics systems solutions for mm-lab, also wanted to impress his company's strengths at the event. The German-based business provides reliable information from remote sources, and with technology in water and waste management making for high demands on efficient and ecology-minded workflows, there is a need for support from IT systems and measurements that mm-lab can provide.He said that mm-lab is a market leader in turnkey solutions regarding communications and IT for automotive projects, and at IFAT mm-lab will discuss its benefits for other markets where its IT-based solutions can be applied for municipal services and management companies.
For further details or to book IFAT tickets log on to www.ifat.de/en