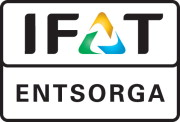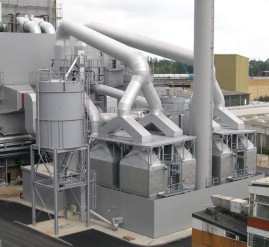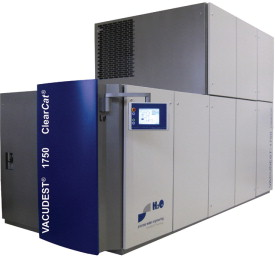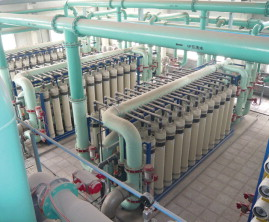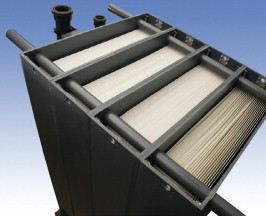 Boll & Kirch Filterbau (Hall A2, Stand 211) is a global supplier of automatic filters, switchable duplex and simplex filters for the filtration of almost all types of water. The company will be exhibiting BOLLFILTERS, which remove contaminations from water, fuels, lubrication oils, coolants, solvents and gases. The product range includes a series of automatic, duplex and simplex filters in different sizes and configurations. Applications for BOLLFILTERS include ship and engine construction, power generation, oil and gas production, automotive and steel industry, water treatment and supply.
Dantherm Filtration (Hall B2, Stand 124) will be exhibiting the company's flat-bag filters and heat exchanger/coolers. The gas enters the pure gas chamber of the filter through the flat bag. During this process the dust is held back by the filter media and forms a filter cake which is important for filtration. The fully programmable dedusting process is activated after a specific time period and the dust cleaned out of the filter hose. The dust falls into the collecting unit and is carried away via the dust conveyor units. In the heat exchanger/cooler, the geometry of the cooling elements and the distance between the pockets are designed so that the cooler cannot become clogged up with dust. An automatic cleaning device is installed for sticky dust.
Dantherm Filtration provides reliable air pollution control equipment for heavy industries. The company is part of the Dantherm Group which specialises in industrial air management, offering industrial cooling, heating, dehumidification, ventilation, air filtration and mobile air management. Dantherm Filtration engineers and manufactures solutions comprising dust collectors, air coolers and absorbers, which are used for many industries such as the foundry industry, non-ferrous industries, quarry industry, asphalt industry, primary and secondary aluminum industry, waste incineration, waste to energy industry and cement industry.
H20 GmbH (Hall A2, Stand 123) is a process water engineering company specialising in industrial wastewater treatment and recycling. The company will be displaying VACUDEST technology, which is used for zero liquid discharge production. Due to legal limits, disposal of highly contaminated industrial wastewater into public sewer systems is mostly forbidden, thus expensive destruction with specialised destruction companies is required. Destruction cost for wastewater occurring in production facilities can be reduced by more than 95% if processed in-house. The distillate can be reused in the work shop, creating a zero liquid discharge production.
inge watertechnologies AG (Hall A1, Stand 313) develops ultrafiltration technologies used in the treatment of drinking water, process water, seawater and wastewater. This year the company will exhibit its new 'T-Rack vario' ultrafiltration module rack which has a 60% smaller footprint than conventional racks. The modular design means the T-Rack vario can be configured to match each customer's specific requirements. The feed and drain pipes are integrated in the end caps of the headers, the filtrate connections are welded to the module bodies and headers, there are no O-rings and all the flanges of the header pipes are mounted in the same plane. The modules can be arranged in either two or four rows and each row can be operated as a separate filtration line.
Innovative Membrane Technology (Hall A3, Stand 309) focuses on producing and developing membranes and membrane elements which offer benefits for water filtration. The company will be exhibiting the SevenBore membrane which has a modified PES structure and design which offers low operational pressures, high virus and bacteria retention, no fibre breakage, high chemical tolerance and pH flexibility. Applications for the SevenBore membrane includes water and wastewater treatment sectors in both industrial and municipal markets.
JVK Filtration (Hall A3, Stand 334) develops, produces and applies filter elements for filter presses, pressure filters, vacuum tank filters, vacuum rotary filters, electrolysis and microfiltration. JVK Filtration will present the company's latest developments for solid-liquid separation in sewage, wastewater treatment, sludge dewatering and drinking water treatment.
Microdyn-Nadir (Hall A2, Stand 303) will be exhibiting the submerged BIO-CEL modules for membrane bioreactors and the BIO-CEL MCP technology which sustains the filtration performacne without chemical cleaning agents. MCP means continuous mechanical cleaning of the membrane surface by means of an inert granulate material. Due to the crossflow aeration, the granulate is moved parallel to the membrane surface, where the particles act as abrasives on the potential fouling layers. The particles flow from the bottom to the top of the module, sediment remains outside the membrane package and is moved upwards by the aeration again, so that a kind of circulating fluidized bed is in operation. Long term tests of the MCP-process showed that the membrane modules can be operated over a very long period of time without any chemical cleaning. The membrane permeability is increased without any deterioration of retention charateristics. This results in a higher plant operating capability and also leads to an increased plant capacity with constant functional membrane area.
ProMinent (Hall A3, Stand 119/216) supplies water treatment solutions and manufactures components and systems for all aspects of fluid metering technology. At IFAT the company will be presenting solutions for filtering, disinfection, oxidisation, measurement and control. The company will be showcasing components, systems and technologies for efficient, environmentally friendly and sustainable treatment of drinking and wastewater and flue gas cleaning. A whole range of drinking and wastewater solutions will be on show. Highlights include metering stations and water treatment processes with the super-ordinate multi-channel measuring and control system Disinfection Controller, polymer preparation stations, big bag emptying stations, multi-screw conveyors, hose pumps with low, medium and high flow rates and gravity filters for the purification of drinking water and wastewater.
Severn Trent Services (Hall A1, Stand 105) is a global supplier of water and wastewater solutions such as water desalination technologies and treatment solutions for reuse applications. The company will be exhibiting the TETRA DeepBed filtration system which is a down flow sand filter for the filtration of effluent from municipal wastewater treatment plants. The technology offers process flexibility and high efficiency backwash for the removal of suspended solids and other insoluble contaminants. For nitrate-nitrogen and suspended solids removal, the process is easily upgraded to the TETRA Denite system, a fixed-film biological denitrification process.
Also on exhibit will be the TETRA NSAF (nitrifying submerged aerated filter), a tertiary ammonia removal process for municipal and industrial wastewaters; the 3,500 ClorTec on-site sodium hypochlorite generating system which has been used for water reclamation/reuse applications in water-starved regions of the world; MicroDynamics microwave ultraviolet (UV) disinfection systems which use microwave energy to energize the bulbs and generate consistent-strength UV disinfection; and the TETRA LP Block, a dual-parallel lateral underdrain filter floor for RGF and GAC filters.
As part of the European Water Association 15th Symposium on water, wastewater, waste and energy, Severn Trent Services will be giving three poster presentations focusing on innovative, new technologies including TETRA Denite, ClorTec on-site sodium hypochlorite generators and MicroDynamics microwave UV disinfection.