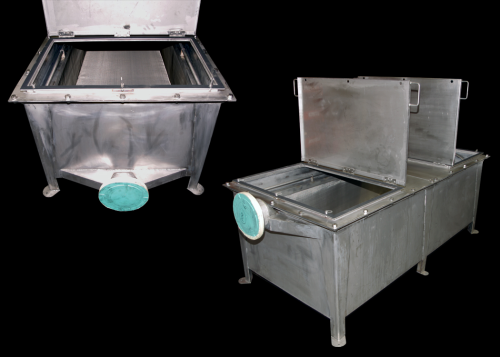 Specially developed for the carpet and flooring supplier's production line, Croft Filter's bespoke solution separates nylon flock from the treatment solution returning to the holding sump. Since it began operation in October 2013, the filter has significantly reduced the amount of wasted flock to just 20 kg for every 12,000 kg processed.
This has saved Forbo Flooring as much as £30,420 of material per year and cut production stoppages for machine operatives to clear out the holding sump by 50%, boosting productivity, as well as improving health and safety.
In the past, the old filter allowed too much flock to escape into the sump, wasting up to 150 kg of material for every 12,000 kg processed. This meant that machine operatives had to stop production up to three times a week to clear out the scrap flock by hand in order to prevent any blockage to the drainage system.
As such, Forbo Flooring turned to Croft Filters for help with a more effective alternative. After an initial consultation, the manufacturer developed a customised design for a new precision solution that fitted into the space available to offer dramatically better filter performance than the original.
Strict specifications
Manufactured to the strict specifications the application required, the filter was delivered and installed by Croft Filters promptly, making an immediate difference to production line efficiency. The new filter has also made it easier for Forbo Flooring to save and collect the scrap flock to be re-used later.
Chris Weightman, Flock Shift Supervisor at Forbo Flooring, said: "We decided to work with Croft Filters because of its reputation for engineering excellence. Its technical team came up with a customised solution that was ideal for our needs, helping us minimise product waste and significantly boosting the efficiency of our production process. The new filter is outstanding, and we are discussing additional solutions to be installed in other sections of the line."
Mark Burns, director at Croft Filters, added: "All of our filter products are specially-designed to meet our customers' individual requirements. We understood the need of Forbo Flooring for enhanced production line efficiency, so we worked hard to deliver a high-impact solution as quickly as possible. The result is a real cost saving that will help the company protect profit margins well into the future."