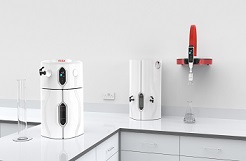 The Chorus range of products now includes PURELAB Chorus 1 Complete and PURELAB Chorus 2. Both provide scalable and flexible solutions for laboratory water requirements.
The new PURELAB Chorus 1 Complete provides 18.2MW.cm ultrapure water (Type I), at up to 20 litres an hour direct from a potable water supply. Its simple, ergonomic design means that water can be dispensed directly from the system or from a choice of Halo Dispensers, which allows users to add multiple dispense points without having to pay for additional systems. 
The PURELAB Chorus 2 for 15MΩ.cm water (Type II) with RO, plus, either DI or EDI is intended for analytical and life science applications. Four variants now exist; 10 and 20 litre an hour, with and without boost pumps – to help increase the pressure, if required. PURELAB Chorus includes fully recirculating, EDI technology that is able to fully recirculate to maintain >15 MΩ.cm to ensure that there is no deterioration in purified water quality over time.