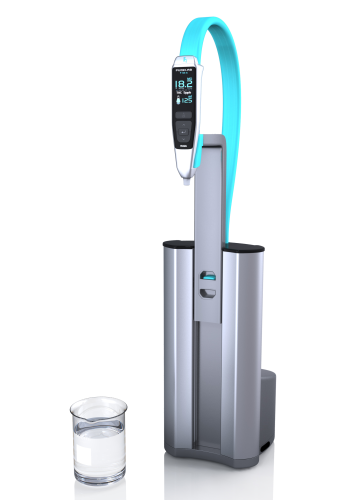 ELGA says that the PURELAB flex integrates in-hand monitoring and accurate pure water dispensing in one product. This has general to highly specialised applications in chemistry and life sciences research and testing laboratories.
According to ELGA, the PURELAB has a flexible hand-held dispenser and an easy-to-read digital display, which shows volume and water purity (either resistivity or conductivity and Total Organic Carbon), allowing users to monitor the water purity visibly as they are dispensing. The dispensing handset of the PURELAB has precise fingertip control - the volume needed is inputted and then dispensed when pressed. The handset can also be programmed with pre-set volumes, which can be repeated with the single press of a button. The PURELAB flex hand dispenser is height-adjustable and the dispense point can be positioned to accommodate virtually any size of container. Changing purification packs is claimed to be quick and easy, which reduces the time spent on routine maintenance.
ELGA adds that the PURELAB flex can be easily upgraded to facilitate changes to laboratory design layouts and applications. The PURELAB flex can be configured with an integral purification pack and UV lamp to produce ultra-pure water (Type I polishing system), or the system can be readily adapted to produce a Type II/III dispense and monitoring system. User settings can also be customised via the web and uploaded via the integral USB port.