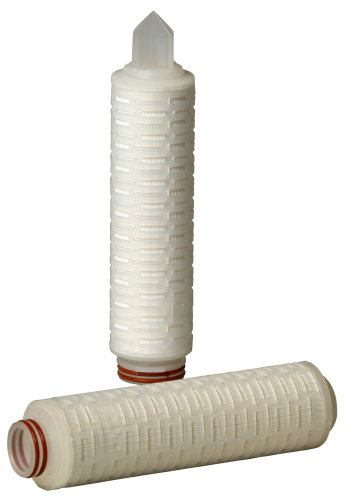 New LifeAssure PFC sterilising-grade air and gas filters from 3M feature an advanced ethylene chlorotrifluoroethylene (ECTFE) membrane, combining reliable micro-organism retention with high airflow performance, efficiency and durability. The new filters help reduce operating costs while ensuring strict compliance with food and beverage industry standards.
Bacteria challenge
The single-layer ECTFE membrane is validated by liquid bacteria challenge, and has demonstrated complete aerosol retention of the bacteriophage. The hydrophobic nature of ECTFE ensures continuously high airflow and low pressure drop throughout a long service life by preventing blockage due to moisture. In addition, specially designed polypropylene flow-enhancing layers help maximise efficiency. The membrane is contained in a Single Open-End (SOE) filter cartridge capable of withstanding multiple exposures to autoclave or steam cycles.
The LifeASSURE PFC series complies with food and beverage industry regulations, and is ideally suited to sterile filtration or use in small and economical vent filter assemblies. Typical filtration applications include filtering process air as well as use in large-scale fermentation air inlet and exhaust systems, or blow, fill and seal machines. Venting applications include venting tanks, lyophilizers and autoclaves.
Certificate of quality
Each unit is integrity tested in manufacturing and supplied with a certificate of quality. 3M says that choosing LifeAssure PFC series also eases validation and regulatory submissions; the filters meet quality and safety specifications such as 21 CFR Materials of Construction, USP Biological Safety Test, Validation Guide and Drug Master File Listing. All filter materials are fully traceable according to 3M ISO 9001:2008 Quality System.