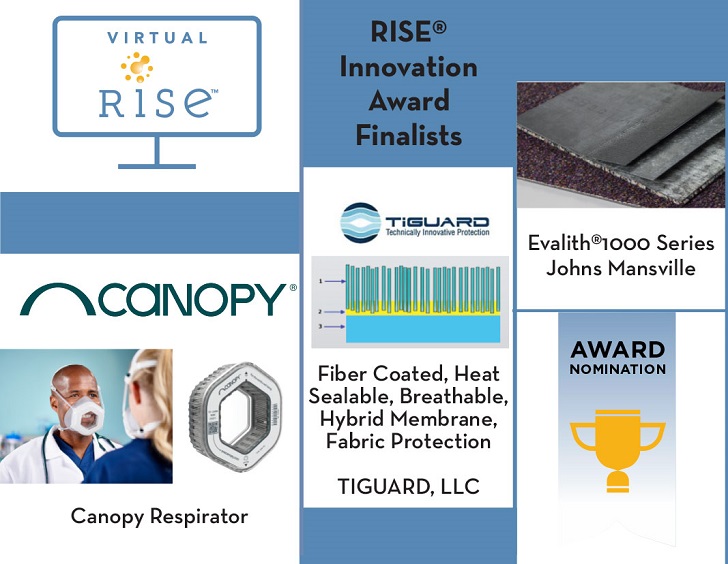 INDA, the Association of the Nonwoven Fabrics Industry, announced the three finalists for the prestigious RISE Innovation Award during the 11th edition of the Research, Innovation & Science for Engineered Fabrics Conference, (RISE®) to be held virtually  28-30 September , 2021. 
The award recognizes novel innovations in the nonwovens industry that creatively use next-level science and engineering principles to solve material challenges and expand the usage of nonwovens and engineered fabrics.
Canopy respirator Canopy is fully mechanical, non-electrostatic, with a filter designed for superior breathability while offering the wearer facial transparency. The respirator features 5.5 mm water column resistance at 85 liters (3 ft3) per minute, 2-way filtration, and a pleated filter that contains over 500 square centimeters of surface area. The patented Canopy respirator resists fluids and eliminates fogging of eyeglasses. 
Evalith1000 Series Johns Manville's Alpha Binder is a formaldehyde-free, high bio-carbon content, toxic-free binder formulation ideal for carpet mat applications. Alpha Binder eliminates monomer and polymer synthesis, uses a bio-degradable catalyst, and requires 70% less water in manufacturing. The resulting glass mats made of Alpha Binder are named "Evalith 1000" and reduces energy consumption during manufacturing by over 70% compared to alternative petroleum-based binders. Evalith 1000 was commercialized in North America in 2020.
Fiber coated, heat sealable, breathable, hybrid membrane, fabric protection TiGUARD protective fabric is a construction of monolithic or hybrid imperious/moisture eliminating membranes with a surface covered with micro-fiber. This nonwoven product is a multi-layer all polyester fabric specifically for chemical and microbial protective fabrics, products, and garments. It is constructed of compatible heat seal-able materials which lend themselves to high-speed heat seal-able production and ultimately automated manufacture of garments without sewing. It is a combination of a densely flocked polyester fiber surface on polyester membrane supported by polyester scrim.
These attendees will electronically vote for the recipient of the 2021 RISE® Innovation Award, on Wednesday 29 September. The winner will be announced Thursday 20 September.