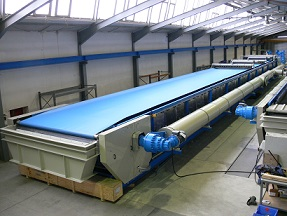 Potassium, nitrogen and phosphorus are the three most important macronutrients in fertilisers. To cater for the increased global demand for fertilisers, producers are investing to expand their production capacity and modernise their existing processing facilities.
For the dewatering of phosphogypsum on their vacuum belt filters, many producers using a VACUBELT3354 type filter belt made by GKD because this particular woven polyester belt type, which offers a longer service life due to reduced product penetration, especially in the seam zone, and a high degree of lateral stability, ensures more process efficiency in the production of fertilisers.
The VACUBELT 3354 is made made of polyester monofilaments for the dewatering of their phosphogypsum slurry. With a pore size of 150 µm and an air permeability of 200 cfm, it ensures efficient dewatering, a low tendency to clog, and good cleaning properties. In addition. because it is manufactured on special, high-tech industrial looms, the belt mesh has the required stability to prevent wrinkling, even in the case of extra-large equipment dimensions. Even belts more than 70 m long and up to 4.5 m wide maintain the requisite lateral stability to ensure the necessary degree of process reliability.