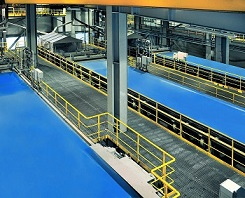 The Weave in Motion business unit from GKD - GEBR. KUFFERATH AG will display its belt types from the VACUBELT product range, which give a high degree of process reliability in the filtration of phosphogypsum through effective dewatering, low product penetration and an extra flat seam.
In potash fertilizer production, Vacubelt filter belts work to dewater the salt solution. In cooling lubricant filtration, the most important features of the filter belts are their very fine pore openings and the fact that they operate without the need for filter aids, which means substantial reduction in costs.
At FILTECH, the company's process belt experts will be demonstrating their product development and manufacturing of the Vacubelt  filter belts, and will be available to discuss specific process challenges with visitors.
The GKD - GEBR. KUFFERATH AG stand will be in Hall 11.1, Stand G2  at FILTECH 2016.