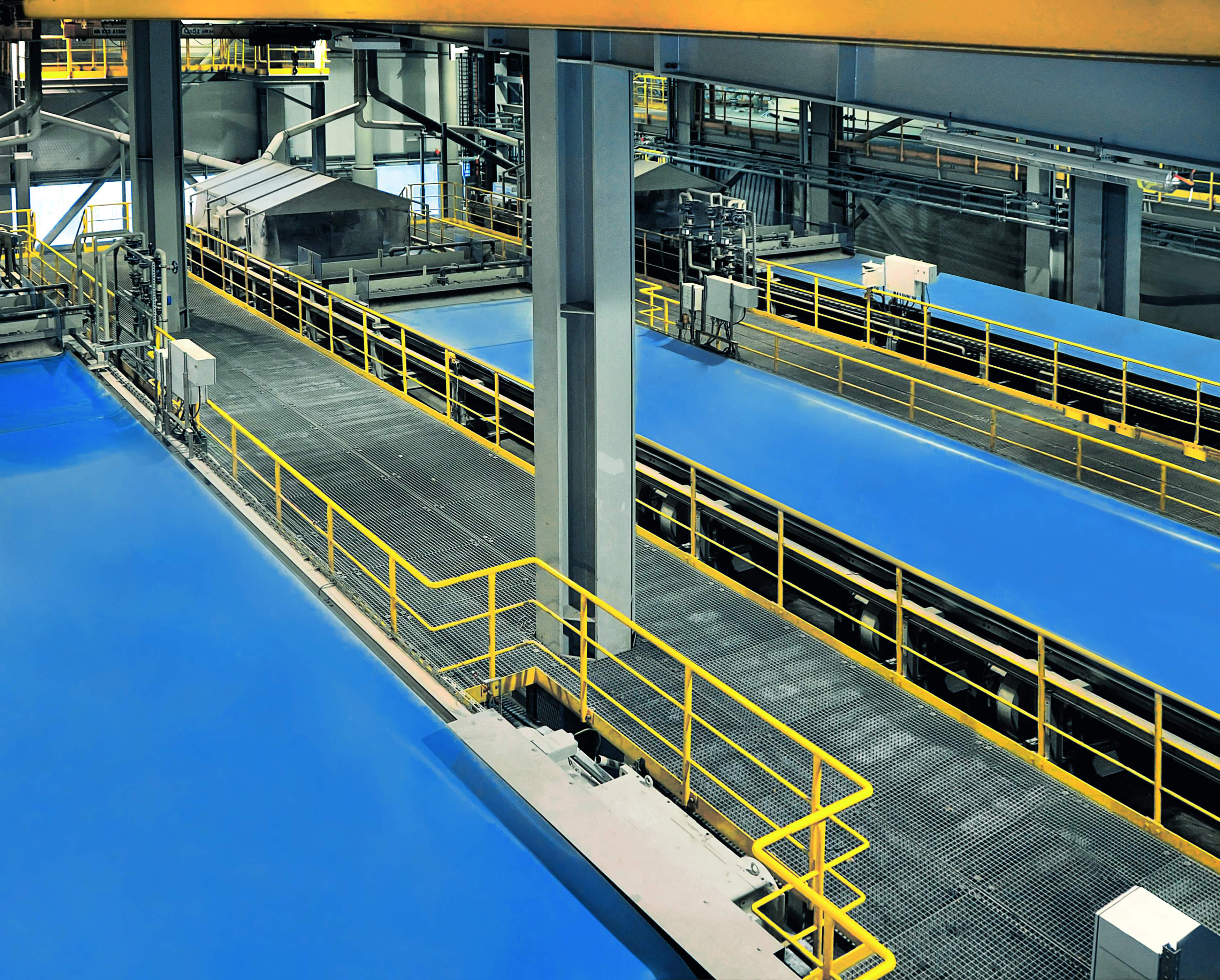 GKD will be showcasing process belt solutions for thermal treatment, dewatering and filtration at  ACHEMA 2018 in Frankfurt on 11-15 June,
Drying, cooling, freezing
In the food industry, industrial belt dryers or coolers ensure that natural products retain their nutrient content and sensory product qualities, such as taste and appearance, and also achieve a longer shelf life. GKD'sTRACKMATIC beltsmade of stainless steels are designed to resist aggressive cleaning agents and are said to be capable of withstanding cleaning-in-place (CIP) processes for years. For applications with tacky products, GKD offers belts with plastic-coated, food-grade warp wires, offering a smooth surface which reduces product adhesion and thereby simplifies cleaning. Metal belts made of special alloys are available for drying highly aggressive materials or PTFE powder.
Synthetic belts are an alternative for belt dryers, belt coolers or belt freezers in the food industry. GKD produces polyester belts with thermally sealed edges and food-grade PAD seam. Mesh and seam are FDA-certified and fulfill the requirements of EU Directive 10/2011. The belts cover the temperature range encountered in the production of foodstuffs and are available in widths of up to 8 m and lengths of up to 140 m. 
Dewatering and filtering
GKS filter belts are employed in process water treatment. Belt 1003 is said to offers excellent transverse stability, dewatering performance and particle retention and is now available with integrated wear indicator to assist in determining mechanical abrasion. A contrasting-colored core in the woven polyester monofilament provides a visible indication of the degree of process-based wear or incorrect belt adjustments after loading the belt. This makes it possible to plan belt changes and promptly implement any necessary corrections.
For applications with fibrous sludges, which are less capable of flowing, such as those typically encountered in the paper industry, GKD offersspiral belts for pre-dewatering and belt presses. A specific post-treatment reduces undesirable elongation of the belt in the process and eliminates the need for readjusting belt tension, which is necessary with conventional belts. The spiral belt is said to therefore combine the benefits of a seamless dewatering belt with the transverse stability of a woven belt.
In the food sector, linear screen belts with FDA-approval are employed in applications such as salad washing.
Used in continuous vacuum belt filter systems, VACUBELT filter belts are reported to surpass the performance of conventional filter belts when dewatering FGD, phosphorous gypsum and potash. A mesh design with apertures from 50 to 500 µm offers optimum air permeability, constantly high filtration performance, low clogging tendency, as well as good cleaning characteristics. They are also said to deliver a long service life. Belts made of polyester monofilaments are used for exacting large-scale filter processes, and in cooling lubricant filtration in the metalworking automotive supply industry.