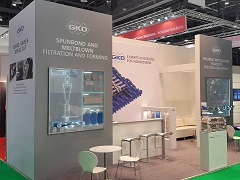 The company had a successful trade show appearance with visitors showing particular interest in the newly developed woven belts from GKD for forming, binding and drying nonwovens. In addition, GKD's filter media made of metallic mesh for polymer filtration, as well as the new in-house spiral fabric manufacturing segment, was also popular showing the company's expertise in the field of nonwovens.
Visitors were interested in the cleaning performance of the CONDUCTIVE7690, which has a new belt design, that allows soiling to be removed more easily and quickly than with conventional belts. With its special monofilaments, the belt also reliably discharges process-based electrostatic charges.
In the field of polymer filtration, metal mesh filter media meet the strictest standards for central filters, spinning beams and blower filters. Multi-ply structures produced from optimized plain dutch weave for process-specific filter discs or cartridges guarantee reliable particle retention and a long service life of the screen changers. In the spinning beam, tailor-made fabric plies optimize filtration of the fusion flow. Blower screens made of large-format honeycomb supporting plates, which employ a specially pretreated mesh design on both sides, improve fibre flow by creating a homogeneous flow.