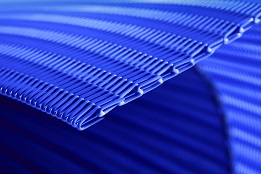 At the GKD stand, the focus will be on newly developed woven belts for the forming, bonding and drying of nonwovens. In addition, the company will be premiering spiral belts from its own in-house production. The stand will also feature filter media made of woven metal mesh for polymer filtration and quench screens.
The highlight at the GKD expo stand in Geneva will be the newly developed laydown belt CONDUCTIVE 7690 for spunlaid nonwovens production. With no need for initial roughening of the surface of a new belt, full production speed can be reached again very quickly after a belt change. The rough belt structure in the running direction ensures a high traction effect in the laydown zone and homogenous carded web formation.
GKD will be at Stand 1648 at INDEX in Geneva.