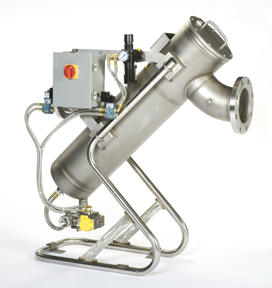 Power management company Eaton addresses pipeline debris challenges with its MCS series of mechanically coupled strainers. Engineered for continuous operations, the high flow strainers – including the MCS-500 and MCS-1500 – are designed to conserve valuable process water while optimizing plant performance.
Competitive market place
"As the marketplace becomes increasingly competitive and environmentally conscious, preserving resources is critical," acknowledged Mary Jo Surges, vice president and general manager of Eaton's Filtration Division. "Eaton's MCS strainers provide our customers with a solution to reduce costly maintenance and downtime, and elevate sustainability standards.
According to Eaton, the MCS series of strainers feature fast cleaning magnetically coupled actuation that eliminates the need for dynamic seals. This technology provides quick and easy access for maintenance, minimizes potential leaks, and requires few moving parts – all of which contribute to a long service life. In addition, the eco-friendly design provides for low-waste operation, with no bags to purchase or dispose.