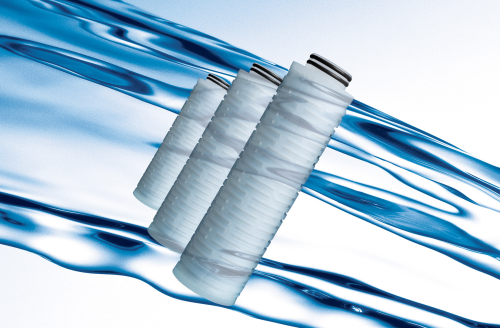 The GORE® filters have been developed for liquid filtration applications in microelectronics processing where high flow is required – including filters for ultrapure water and for high purity chemical processors. Processors are faced with the challenge of increasing retention without decreasing flow or increasing flow without losing retention. Gore says that by using its most advanced PTFE membrane, a flow rate several times that of traditional best-in-class filters can be achieved without sacrificing particle retention.
Gore's family of cartridge filters use the PTFE membrane to improve process performance and reduce the total cost of filtration for ultrapure water, de-ionised water and high-purity bulk chemicals used in the manufacture of semiconductors and other microelectronics.
The filters enable semiconductor fabs to realise both improved performance and lower cost of ownership. These can upgrade retention performance and reduce particle counts while maintaining desired flow rate, as well as enabling reduced processing times, higher flow rates and faster bath turnovers.
These filters are currently used by leading fabs worldwide for ultrapure and de-ionised water facilities. They have reduced their total cost of filtration, improved water quality, and protect against upstream system upsets.
For processors of high-purity bulk chemicals used in semiconductor fabrication and other microelectronics manufacturing processes, the use of such filters has enabled improved product quality, increased production capacity and reduced cost of filtration for high viscosity fluids, acids, bases, solvents and speciality chemicals.
Cartridge filter performance boosts semiconductor manufactureW. L. Gore & Associates, Inc. will feature its polytetrafluoroethylene (PTFE) membrane filter technology at SEMICON West 2012, from 10-12 July at the Moscone Center, San Francisco, USA. The GORE® filters have been developed for liquid filtration applications in microelectronics processing where high flow is required – including filters for ultrapure water and for high purity chemical processors. Processors are faced with the challenge of increasing retention without decreasing flow or increasing flow without losing retention. Gore says that by using its most advanced PTFE membrane, a flow rate several times that of traditional best-in-class filters can be achieved without sacrificing particle retention.Gore's family of cartridge filters use the PTFE membrane to improve process performance and reduce the total cost of filtration for ultrapure water, de-ionised water and high-purity bulk chemicals used in the manufacture of semiconductors and other microelectronics. The filters enable semiconductor fabs to realise both improved performance and lower cost of ownership. These can upgrade retention performance and reduce particle counts while maintaining desired flow rate, as well as enabling reduced processing times, higher flow rates and faster bath turnovers.These filters are currently used by leading fabs worldwide for ultrapure and de-ionised water facilities. They have reduced their total cost of filtration, improved water quality, and protect against upstream system upsets. For processors of high-purity bulk chemicals used in semiconductor fabrication and other microelectronics manufacturing processes, the use of such filters has enabled improved product quality, increased production capacity and reduced cost of filtration for high viscosity fluids, acids, bases, solvents and speciality chemicals.www.gore.com