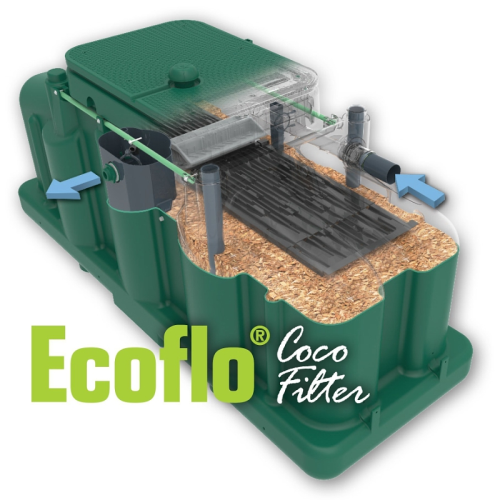 This new Ecoflo product is based on the same 100% natural, coco husk-based filter media – a by-product of the coco industry. NSF International tests have confirmed that the air flow and water retention capacities of the coco fibers can resist to an even greater hydraulic loading rate and offer a 40% increased treatment capacity in a more compact unit.
This means that home owners and developers can obtain the same high-performance, low-maintenance and no energy septic solution, but in a significantly smaller shell. Designed to resist to the harshest climates and periods of no-flow as well as peak flows, Ecoflo Coco Filter is now available as a ready-to-use rotomolded polyethylene tank that can treat up to 600 US gal/d. Weighing 1300 lbs (filter media and internal components included) it can also be incorporated as a kit into existing concrete tanks made by local precasters.
The new Ecoflo Coco Filter is said to be easy to handle with any standard machinery and is an ideal solution when space is limited. After years of usage, the spent filter is pumped out and replaced with new Premier Tech filtering media and the 10-year warranty on the treatment performances of the system is automatically reactivated.
The used filter can be recycled to produce a nutrient-rich compost for soil amendment to reduce the carbon footprint of the product even more.