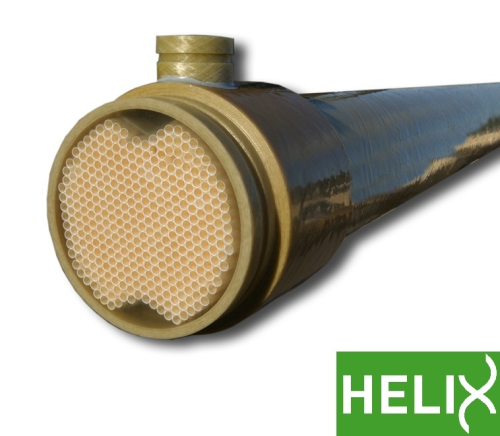 Pentair will highlight its X-Flow advanced membrane and Codeline pressure vessel product lines at Booth 320. Attendees will have the opportunity to view Pentair's latest innovations and solutions, including its breakthrough Helix flux enhancement technology and the robust Aqualine system.
Helix Technology: increase productivity while lowering energy consumption  
For industrial processing and water reuse applications, X-Flow's next generation tubular membrane with Helix technology helps to address a bottleneck in high-solids ultrafiltration (UF) by preventing the buildup of foulants. With advanced hydrodynamics, Helix can help enhance flux, increase flow and save energy. By introducing turbulence right at the membrane wall, the innovative Helix technology provides continuous mixing and efficient removal of the cake layer that would otherwise reduce the membrane's hydraulic permeability. Pentair says the resulting higher permeate flow contributes to higher productivity and lower energy costs. The company adds that due to the effective membrane cleaning at low crossflow velocities, Helix significantly reduces the energy footprint compared to standard tubular membrane solutions.
Aqualine: maximize the performance of water treatment and purification systems  
The Aqualine system is a robust technology suited as a pre-filtration solution for industrial water challenges in various industries. Pentair says the Aqualine system helps to enable lower capital and operating costs while offering a smaller equipment footprint, as well as fast and easy changeouts. Aqualine utilizes Codeline FRP housings, which Pentair says can provide a 50% reduction in capital expenditure compared to typical steel vessels. The key to performance is advanced separation technology, and Pentair claims its high-tech media delivers the required efficiency and performance.