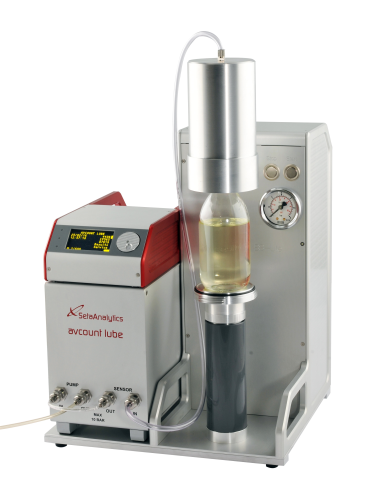 Particulates can be highly abrasive and shorten the life of mechanical parts. Monitoring the particle content of hydraulic and lubricating oils helps reduce machinery downtime and repair costs.
Contamination of the fluid can be caused by:•    Dirt and dust entering the system•    Component wear of failure•    Particles generated by ageing and breakdown of the oil e.g. sludgePreventative maintenance can be accurately targeted based on particulate contamination so that contaminated fluids can be changed before they cause irreversible system damage. By basing maintenance on a condition rather than a fixed schedule, significant cost savings can be achieved. Monitoring the particle content of hydraulic and lubricating oils also gives an insight into the condition of the system as a whole
Quality control instruments
Stanhope-Seta design and manufacture quality control instruments used to measure the physical characteristics that determine product quality. Seta instruments are used by many diverse industries including oil refining, petrochemical, lubricants, pharmaceutical, food, cosmetics, plastics and transport.
Whether checking in-service lubricants, hydraulic fluids or insulating oils, AvCount Lube from Stanhope-Seta design provides a flexible solution for testing oils with a viscosity up to 200 mm2/s.
AvCount Lube comprises two modules; the Sample Delivery System (SDS) and the Particle Counter Module (PCM).  The PCM can be used independently from the SDS as a compact portable instrument for testing light lubricants and oils with a viscosity up to 64 mm2/s.
Synthetic oil resistance
The instrument is fitted with FFKM seals throughout for resistance to synthetic oils.AvCount Lube can be used within the distribution network or in the laboratory and is pre-programmed with three embedded test methods: •    ASTM D7647 (lubricants)•    ISO 60970 (insulating oils)•    ISO 4406 (hydraulic oils)
When connected to a personal computer, AvCount Lube can be operated via the supplied ProTrend software.  ProTrend is programmed with a number of standard test methods for oils and lubricants, including SAE 4059 and NAS 1638.  It also allows the user to create custom test methods, edit the test methods embedded in the PCM and download results that have been stored in the PCM memory.