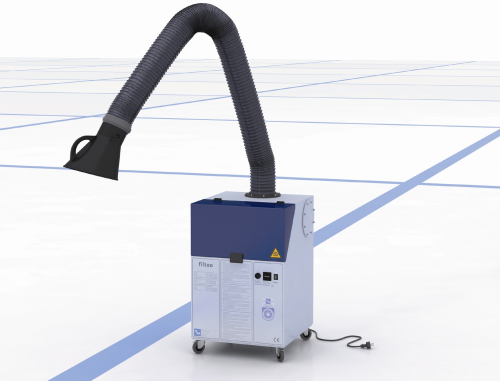 The BIA approved 1.3 kW, 230 V or 110 V/50 Hz filtoo, from Flextraction, is a complete ready to plug and go system which takes polluted air in through the suction hood and hose into four different filters; the G4 10 piece coarse filter separates any dust particles, the F5 pre-filter filters finer dusts, the F9 main HEPA filter filters other fine dust particles with a more than 99% separation efficiency and the activated carbon filter absorbs any unpleasant odours. Clean air is returned to the workshop through an outlet grill at the rear of the unit.
The filtoo has a fan capacity of 2,500 m3/hr with a low operating noise level of 72 dB(A), is available from stock for a next day delivery and is supplied with the option of either a 3 m x 150 mm diameter self supporting extraction arm or a flexible hose on the side for attaching to a processing application.
The filtoo is user friendly with large access doors for easy filter changing, it has a operating hours meter, an audible alarm for when the filters need changing and four casters with two having brakes. It is lightweight, weighing only 80 kg and measures 580 mm (W) x 580 mm (D) x 900 mm (H) making it ideal for the smaller workshop.