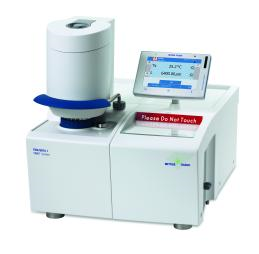 A new line of Thermomechanical Analyzers that provide users the capability for length measurements over a wide temperature range with nanometer resolution while workflows are kept easy, ergonomic and efficient. The new TMA/SDTA 1 allows easier handling of sample supports and probes and has advanced intelligent features with the One ClickTM operation. The TMA/SDTA 1 incorporates Swiss precision mechanics and is available in four versions with furnace systems optimized for measurements between –150 and 1600 °C:
• Large furnace model for the temperature range from RT to 1100 °C • High temperature model for the temperature range from RT to 1600 °C • Intracooler model for the temperature range from –80 to 600 °C • Liquid nitrogen model for the temperature range from –150 to 600 °C
Other features of the new TMA/SDTA 1 include:
Touchscreen terminal for the TMA/SDTA 1 – with One Click technology:
• The touch-sensitive color terminal for the TMA/SDTA 1 presents clear and precise information and is easily seen from a distance. • The patented One Click function allows you to start predefined measuring methods safely and easily from the terminal at the touch of a button. • All force and length calibration routines are controlled via the terminal. This ensures that calibrations are performed reliably and easily. • The touch screen can be used to control the determination of sample length and the transfer of data to the software. This eliminates any possible transcription errors.
SDTA Signal:
The TMA/SDTA 1 is the only TMA instrument on the market with the well-proven and superior SDTA technology for unsurpassed temperature accuracy. Due to this feature, the sample temperature is measured very close to the sample in all operating modes. This enables temperature adjustment to be carried out using the melting point of reference substances or through a change in length.
The SDTA signal is the difference between the measured sample temperature and the reference temperature calculated using a model (US Patent 6146013). This means that besides the length change, the simultaneously measured SDTA signal is also available as a measurement quantity. In many cases, this can facilitate the correct interpretation of a measurement curve.
Easy sample installation:
The sampling area is freely accessible for installing the sample holder and measuring probe. These operations can be performed quickly and easily. An indentation ensures that the sample holder can only be installed in one position. The measuring probe is securely attached to the length sensor (LVDT) by means of a magnet and can be easily exchanged. Different sample holders and measuring probes are available for each measuring mode. This allows you to choose the best configuration for each application.
Reliable high-class performance:
16 000 000 data points are available for the entire measurement range of ±5 mm. This means that both small and large samples (maximum 20 mm) can be measured with 0.5 nm resolution without the need for range switching.