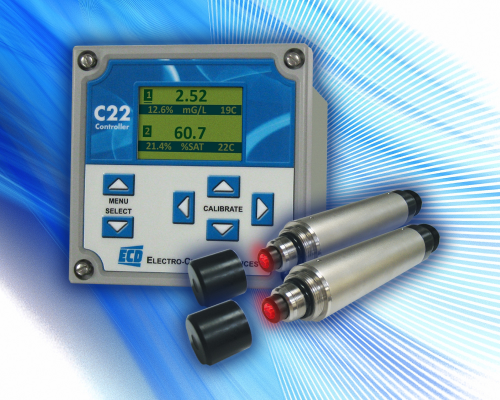 Electro-Chemical Devices' C22 multi-channel controller/monitor integrated with the Triton DO8 sensor creates a highly accurate oxygen analysis system. The C22 features a multi-bus architecture which allows up to four sensor inputs, six outputs and six relays. The Triton DO8 Sensor features a maximum error rate of less than 2%, repeatability of ±0.5% and resolution of 0.01 ppm or 0.01% saturation. The sensor operates over a wide measurement range with three different outputs from 0 to 20 mg/l (0-20 ppm), 0-200% saturation or 0-500 hPa (0-6 psi).
The Triton DO8 sensor can withstand ambient temperatures from -20 to 60°C (0-140°F) and records measurements at temperatures from -5 to 50°C (20-120°F). It withstands pressures up to a maximum of 10 bar (145 psi). A proven fluorescence quenching method enables the Triton DO8 sensor to determine the oxygen concentration in water. A circular layer of optically-active, oxygen-sensitive molecules is integrated into an easily replaceable cap. This durable layer is highly permeable to oxygen and rapidly equilibrates to its surroundings. The cap aligns the optically-active fluorescence layer above two optical components inside the sensor, an emitter and a detector.
After the sensor's emitter flashes a green light at the layer, the layer fluoresces back a red light. The duration and intensity of the fluorescence are directly dependent on the amount of oxygen in the layer. With little to no oxygen in the layer, the response is longer and more intense. The presence of more oxygen, however, quenches (reduces) the fluorescence effect.
The Triton DO8 sensor calculates dissolved oxygen values by continuously analyzing the oxygen level, water temperature and air pressure. Via digital communications, the DO8 sends DO data to ECD's C-22 Controller, which provides a 4-20 mA output signal to a water treatment plant's control room. The RS-485 digital signal is nearly immune to common EMI/RFI noise that is typically a problem in many plant environments.