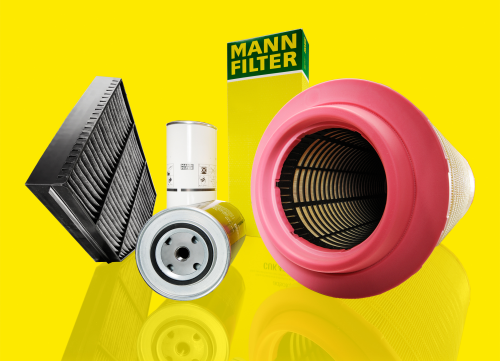 Current emission standards as well as changes in combustion and injection processes place high demands on commercial vehicles and therefore also on filtration technology, the company says, and in addition to air, oil, fuel and cabin filters, the company also supplies drying agent boxes, oil centrifuges and transmission oil filters. 
"We have taken these increased demands on board and are consequently designing our products to be even more efficient and reliable," says Matthias Weller, technical expert at MANN-FILTER.
MANN-FILTER's products feature nano-fibre technology to prevent the harmful effects caused by impurities. The carrier material of the nano-fibre media consists of cellulose coated with thin layers of ultra-fine polymer fibres. The surface on which dust particles can be deposited is much larger as a result, and even the tiniest particles from the intake air, which are up to 500 times finer than a human hair, are almost completely filtered out, according to the company.
Less effort required
The range includes filters in tested original equipment quality as well as service-friendly solutions for the trade and workshops. The MANN-FILTER "HU 1291 z" for commercial vehicles, for example, features a bayonet fitting. During opening, this bayonet connection ensures that the entire filter element can be released and lifted out of the socket in the housing without the effort usually required. The oil filter element is made from a mixture of cellulose and polyester fibre, making it more durable. 
More and more filters from MANN-FILTER also feature a waterproof, flame-retardant impregnation. These treated filters reduce the risk of fire from the air filter in the engine compartment. This means increased protection not only for the vehicle and the load, but also for the driver and other road users.