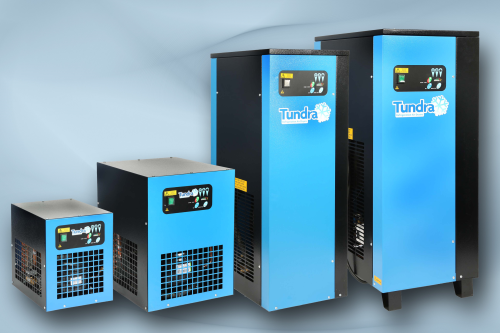 The display of the multi-functional energy-saving controller provides information such as the dryer running dewpoint. Should the dryer go to light duty (i.e. reduced airflow) the refrigerant gas pressure is monitored and adjusted accordingly. The dryer has a built in energy-saving device which will stop the compressor and wait for the refrigerant gas pressure to rise to a pre-set value before restarting. This direct expansion technology not only reduces energy consumption but ensures at least +3°C PDP (pressure dewpoint) is maintained at all times.
Further energy consumption advantages are delivered as a result of the low pressure drop afforded by the modular, single cell aluminium heat exchanger, which gives the most efficient transfer of heat at the lowest energy cost. Additionally, the solenoid condensate drain is controlled from the dryer control panel to ensure efficient and reliable removal of water/condensate from the air.
Tundra air dryers offer a 40-bar pressure range and can be provided with a range of high performance oil and particulate filters to suit dryer inlet and outlet ports. These filters are available in compressed air blue (RAL 5015) to match the dryers.