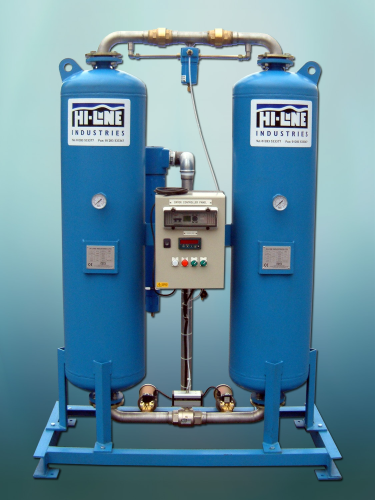 There are 19 models available in the HPS adsorption dryer range from Hi-line Industries. The dryers provide air throughput capacities from 20 scfm (34 Nm³/h), up to 5,500 scfm (9350 Nm³/h), with all models being skid mounted. Product footprints range from 675 x 380 mm up to 2,900 x 1,900 mm and heights from 1,625 to 3,000 mm. All dryer units can be supplied in a choice of colours, or can be privately labelled for OEM customers.
The HPS adsorption dryers do not use any external heat energy source. The desiccant used is a standard activated alumina for a -40°C dewpoint operation (molecular sieve for -70°C dewpoint), which is regenerated by using very dry purging air supply. This is expanded over an orifice plate, which further reduces the dewpoint due to the pressure reduction. This very dry air supply desorbs water from the desiccant, passing through silencers back to the atmosphere. This purge air supply typically uses 12.5% of the dryer capacity.
Applications for the HPS adsorption dryers from Hi-line Industries include any commercial/industrial application where high quality dry air is required, such as food and beverage processing, aerospace and electronics production together, automotive painting and instrument air supplies.