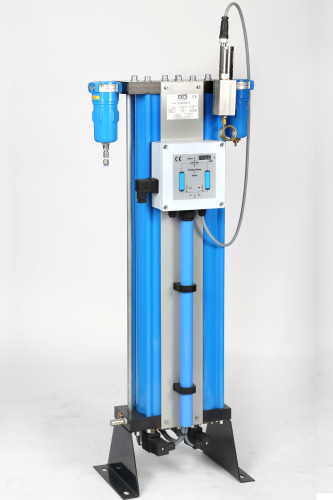 The Atacama products feature twin towers, each filled with desiccant, providing high performance coalescing pre-filtration combined with positive particle after-filtration.
Only one single tower is on-line at a time, while a small amount of the dry, compressed air throughput is used to automatically regenerate desiccant in the second off-line tower. The change-over procedure is achieved under the well established PSA (Pressure Swing Adsorption) principle. High rates of reliability are achieved by the simple principle of positively driven valves, as opposed to less reliable 'shuttle valves' employed on cheaper, lower quality dryers, Hi-Line reports. 
The Atacama products can be found in general processing and packaging operations including medical, dental and food, as well as industrial applications such as powder coating, printing, laser technology, plasma cutting,  and pneumatic controls.
The standard product range covers five models, accommodating flow rate volumes of 5-100 cfm of clean, dry air at dewpoints from  20°to -40°C.  Lower dewpoint models down to  70°C can be supplied.
Optional extras include an off-the-shelf centrifugal water separator and an energy saving dewpoint controller.