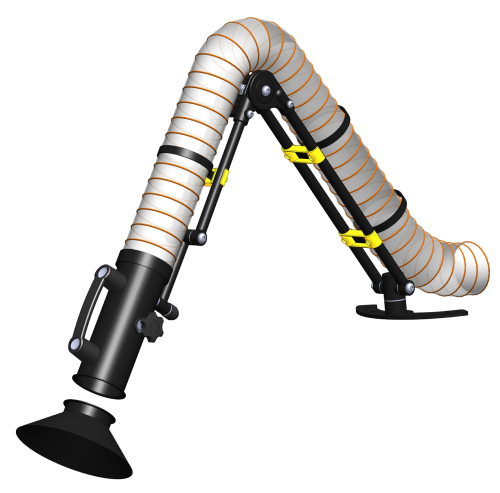 The range of Hood Positioning Devices (HPD) from Flextraction incorporate new mounting brackets, hoods and hoses for the capture and extraction of hazardous and corrosive industrial dusts and fumes. The HPDs are totally self supporting mechanisms which meet HSE requirements for the correct positioning and design of LEV hoods.
Features of the HPDs include a twin support mechanism which incorporates two springs to provide increased return force, as well as an increased surface area around the central pivot. The rear casing is fully enclosed to protection against dirt ingress, a rear boom extension gives a 270° working radius and a new 360° rotating swivel hood enables more accurate hood positioning, whilst quick release clips are used to attach a range of flexible hoses such as standard PVC, FD approved polyurethane, high temperature, chemical and solvent resistant as well as ATEX certified hoses.
Flextractor HPD's are suitable for standard wall or stanchion mounting, as well as upward and downward swivel, joist and ceiling mountings and are available in five standard lengths between 1.5 m and 4 m. Optional solid tubed sections in the same diameters and with flexible joints are also available to further reduce the risk of solids build up. The Flextractor HPD'd telescopic extraction arm gives the user a 1,200-1,650 mm reach. The Extended HPD provides a longer reach of up to 8 m. The wall or bench mounted mini HPD is available in three standard diameters, 75 mm, 100 mm and 250 mm with either 1 m or 1.5 m reaches.
Applications for the HPDs from Flextraction include surface grinding, welding, product tipping, drum filling, food processing and all manufacturing applications where dust and fumes are emitted.