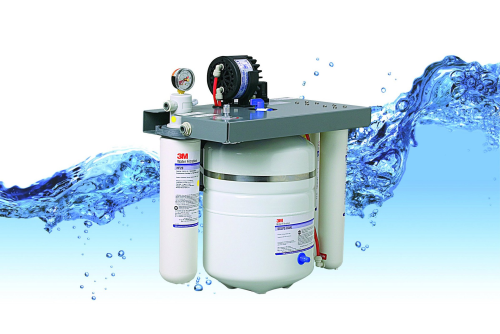 3M says that these filters offer an enhanced taste experience for the consumer while lowering the operating costs of catering equipment in commercial kitchens, pubs, bars, restaurants and hotels.
The ScaleGard LP2-BL (SGLP2) Dual Port Reverse Osmosis System from 3M is a compact, wall-mounted unit designed to deliver filtered water reliably that tastes good. The system provides two water qualities for speciality coffee and flash steam applications, which means that only one filtration is required for all the back-of-house catering equipment typically found in a professional kitchen – from steamers and combi ovens to ice machines, bulk coffee brewers and espresso machines. These are all expensive pieces of equipment to buy and maintain so the elimination of multiple filtration units presents significant cost and time savings.
Using twin RO membranes, the system purifies mains water, removing solids and minerals that can cause limescale and corrosion problems typically associated with flash steamers, thereby helping to minimise equipment downtime and servicing costs. Also, as a non-electric system, with filtration driven by incoming water pressure, the system offers high reliability with low ownership costs, immunity to power outage and enhances energy efficiency.
For water and coffee applications, the SGLP2 Reverse Osmosis System provides a second RO-filtered supply, which is recombined with a controlled quantity of mains water via a blending valve to maintain a consistent mineral composition. This source of Recipe Quality Water is then passed through a 3M cyst-rated filter to deliver tailored quality softened, particle-free water as the starting point for great-tasting coffee and ice.
At filter end-of-life, the RO membrane cartridges can each be replaced quickly and easily by in-house staff using 3M's Sanitary Quick Change (SQC) cartridge attachment, helping to save the cost of service calls. In daily use, the system also contributes to reducing water consumption, delivering savings in both supply and waste water costs compared to traditional RO systems.
The ScaleGard Pro (SGP) P1175 Anti-scale Filter from 3M provides a high capacity of 6000 litres, which increases convenience for owners and reduces equipment downtime by extending the filter change-out interval. The filter matches the high level of filtration achieved by other SGP filters to ensure effective removal of scale-forming minerals. It also features 3M's SQC cartridge attachment.
The SGP1175 Anti-scale Filter's proportional bypass provides consistent hardness reduction for repeatable water quality and scale prevention, while also ensuring that all water passes through 3M's carbon-block post filter for chlorine and odour removal. This unit is fitted in the SGP1175BN-E fixed-bypass variant of the new high-capacity filter. An additional variant, the SGP1175-E, is a non-bypass version providing a cost-effective alternative capable of protecting the heating elements of equipment such as steamers.  Preventing scale build-up in coffee vending machines and steamers helps maintain optimum efficiency, enhancing business performance by minimising energy consumption and the costs of machine downtime and service calls.