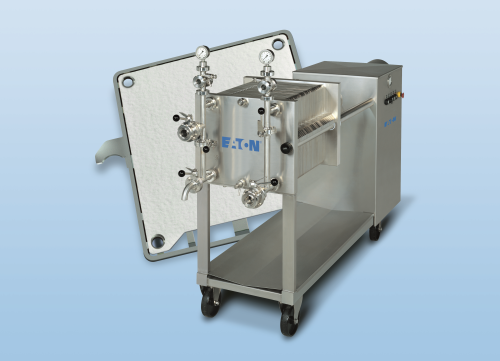 The system is now available in a small 200 mm (7.9 in) and larger 1000 mm (39.3 in) size. The filtration system is designed for R&D laboratory applications through to higher batch volumes in manufacturing processes in the fine chemical and pharmaceutical industries.
The company says that the system is a hermetically enclosed plate and frame filter. The range has been expanded and is now available in five sizes – 200 mm, 400 mm, 600 mm, 800 mm and 1000 mm (7.9 in, 15.7 in, 23.6in, 31.5 in and 39.3 in) – and delivers a filter area from 0.6-1227 ft2 (0.056-114 m2).
The depth filtration system consists of a filter chassis with hydraulic compression and a filter pack. Depending on the filtration task, the filter pack is made up of feed plates, filtrate plates, or cake frames. BECO depth filter sheets are inserted between the filter elements and compressed, and the product channels of the filter elements are sealed via the BECO depth filter sheet. This ensures that only the filter element and the BECO depth filter sheet are in contact with the fluid and as a result prevents cross contamination.