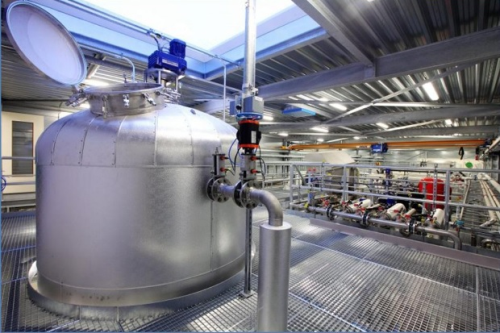 Doosan will work with partners North Midland Construction (NMC Nomenca) and Dutch technology provider Sustec BV, which will supply its Turbotec® continuous thermal hydrolysis plant (cTHP), which is said to be the first of its kind in the UK.
The plant will be built at Strongford Sewage Treatment Works (STW), near Stoke-on-Trent. This is a major treatment works serving Newcastle-under-Lyme and Stoke-on-Trent with a population equivalent of around 350,000.
The key objectives for the project are to maximise biogas production, reduce sludge volumes, produce an enhanced digestate, whilst achieving the lowest total expenditure cost. 
As a regional sludge treatment centre, the new AAD plant will need to handle indigenous and imported thickened raw sludge (primary and secondary), imported raw sludge cake and imported industrial trade effluent. The plant will be capable of processing 80 tonnes of dry solids per day (tds/d) on average, with a peak of 94 tds/d, and producing a thermally hydrolysed sludge with a target dry solids content of 10 wt%.
In order to achieve such an output, the scope of works will include imported screened sludge cake reception, indigenous sludge storage, pre-cTHP screening and dewatering, Sustec Turbotec cTHP, Doosan Puriser® pasteurisation, upgrading of existing mesophilic anaerobic digesters, liquors treatment, steam generation, upgraded biogas storage and a new waste gas flare. The enhanced biogas generated will be utilised by the recently installed sas-to-grid plant, the existing CHP installation, and the new steam generation system. The enhanced digestate will be used by the local land bank as a sustainable bio-fertiliser.
"From the outset of the procurement process, Severn Trent Water indicated that they were willing to consider a range of thermal hydrolysis technologies now available to the marketplace, so I'm very proud that Doosan were able to offer an alternative option, utilising our international technology provider relationships along with our in-house process engineering and EPC capabilities," states Avtar Jirh, CEO of Doosan Enpure.