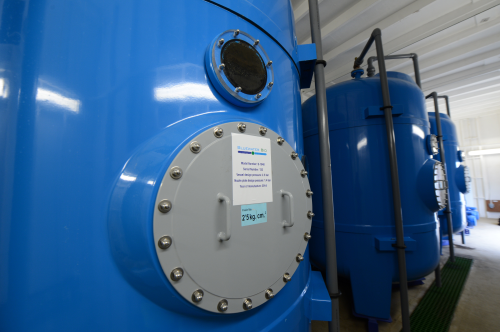 Severn Trent Water, through its key capital delivery partner Mott MacDonald Bentley (MMB), has selected Bluewater Bio Ltd's FilterClear technology for the provision of a tertiary solids removal plant at Codsall Sewage Treatment Works in Staffordshire, UK.
Bluewater Bio will provide a fully automated 4v2040 tertiary solids removal plant capable of treating up to 100 l/s of flow, to enable the site to meet the new consent of 0.5 mg/l for phosphorus, under the Water Framework Directive.
FilterClear is both a modular and scalable process, treating flows ranging from 2 l/s to in excess of 1000 l/s.
Fergus Rooksby, commercial director of Bluewater Bio, said: "This award allows us to showcase FilterClear as an ideal option for a chemical dosing approach to low phosphate concentration consents. We are seeing increasingly stringent discharge consents coming into force across the UK in AMP 6, with many water companies needing to implement enhanced P removal across numerous sites. Its modularity and excellent DfMA credentials make it an attractive solution to both tier one and end users. We believe FilterClear is well placed to capture a significant proportion of these schemes."
This contract with Severn Trent is the company's second P removal scheme in the past 12 months. FilterClear is currently being assessed by Yorkshire Water, as part of the National Chemical Investigation Programme (CIP), at Bolsover STW in Derbyshire, UK.