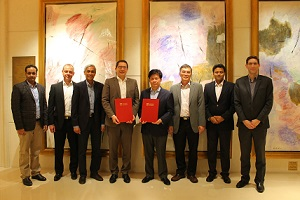 The partnership will see the testing of various air filter technologies on NTU's buildings, with a focus on their performance in tropical weather. NTU's 200-hectare campus which is already a living lab for many environment-friendly research projects ranging from sustainability solutions to electromobility.
Leading NTU's efforts will be its Energy Research Institute, who together with Camfil's experts will investigate the impact of indoor air quality on the cognitive performance of adults, which includes assessing their learning performance, memory abilities and reaction time.
Findings from the joint research projects are expected to shed light on the optimal indoor environment for improved cognitive health and general well-being of building occupants.
NTU chief of staff and vice president (research), Professor Lam Khin Yon,g said that the research partnership between NTU and Camfil is highly relevant in today's urban cities as people spend more than 90% of their time indoors, whether at home or at work. In urban centres, assessments on indoor air quality are also central in determining the well-being of workplaces.