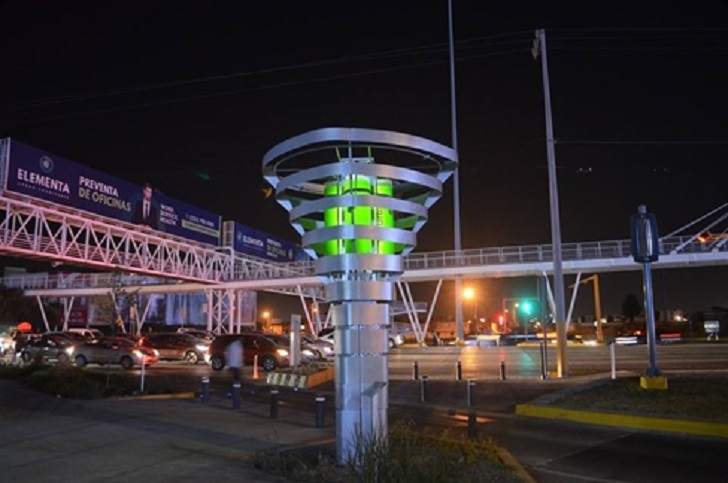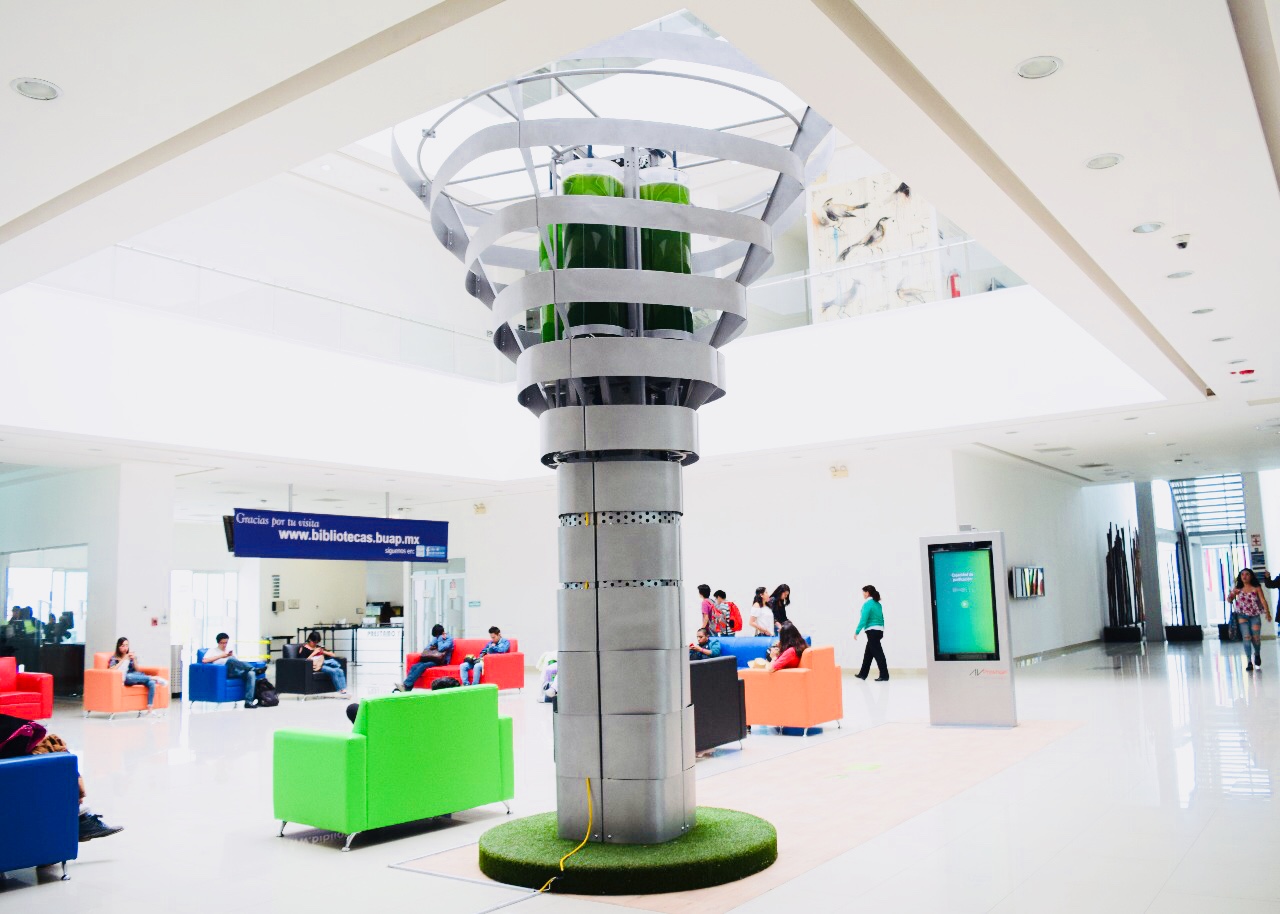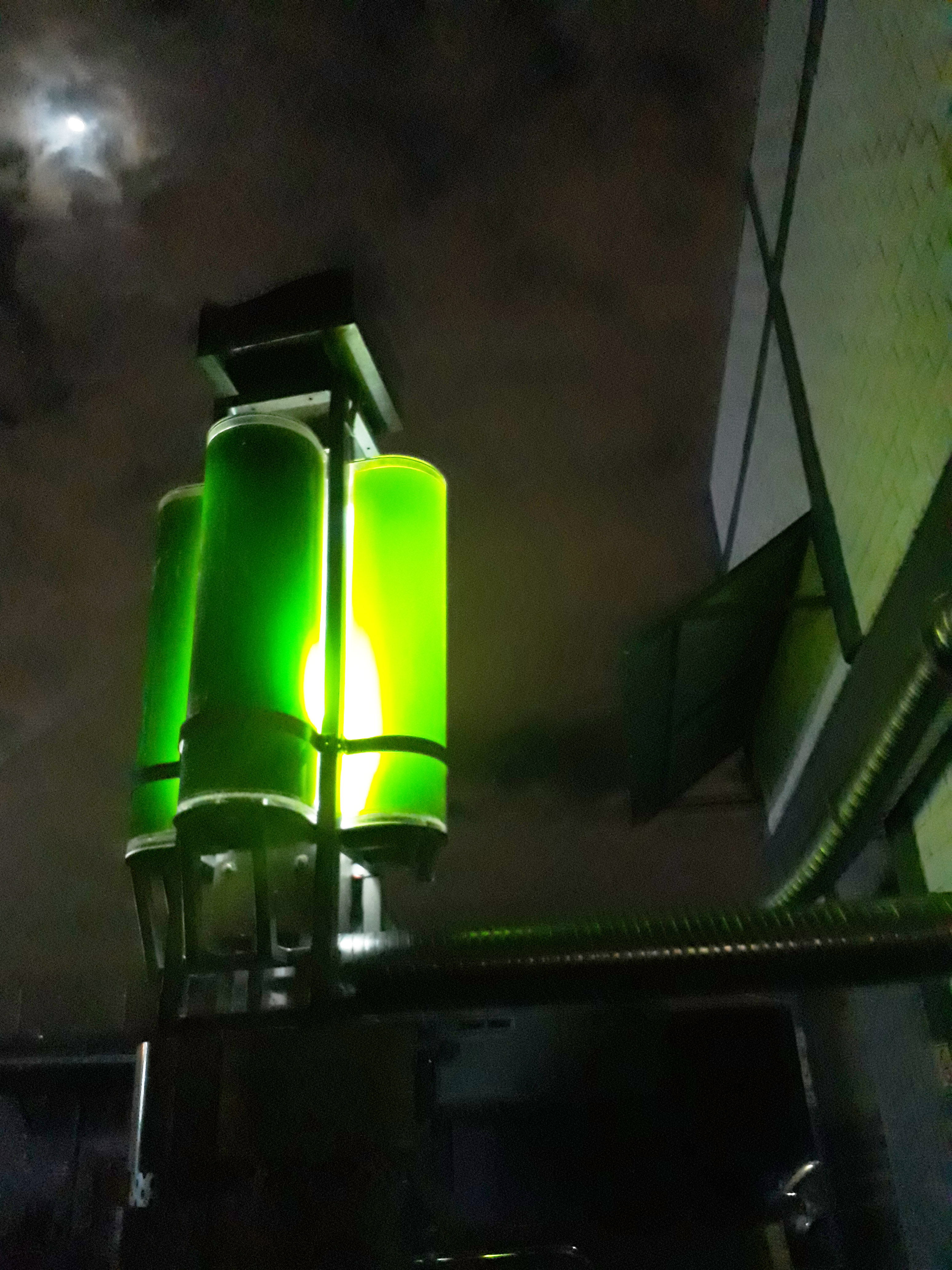 The World Health Organization (WHO) estimates that around 7 million people die every year from exposure to fine particles in polluted air. A Mexican company specialising in microalgae air filtration systems has come up with an unusual solution to fight urban pollution.
The WHO's latest Global Ambient Air Quality Database, which was updated in 2018, shows that 80% of people living in urban areas are exposed to air quality levels that exceed the WHO's limits. While all regions of the world are affected, populations in low-income cities are impacted the most, with 97% of cities in low and middle-income countries not meeting air quality guidelines.
Mexico has some of the world's highest levels of air pollution, so one of its home-grown companies, Biomitech, which specialises in the development of environmentally-friendly technologies, decided to do something about it. The company has created an air purification system called BioUrban, using the power of microalgae, micro-organisms which naturally feed on pollution.
Pollution positive
The BiomiTech air purification technology uses biomimicry, harnessing the natural capacity of algae micro-organisms to thrive in polluted environments. The BioUrban units capture pollutant gases and particles (CO2, CO, NO2, VOC`s, PM 10 and 2.5) and transform these emissions into oxygen, turning a problem into a solution. The more pollution there is, the more the algae grow and photosynthesise carbon dioxide into oxygen. As a by-product, the waste microalgae can be used as raw material to produce products such as biogas and biofuels, thus creating a circular bio-economy.
Carlos Monroy, CEO of Biomitech, studied microalgae cultivation at university and began to think about applied technologies that could take advantage of the micro-organisms' enormous potential. After graduation he started an incubation project which brought him into contact with engineers and people from several subject fields who gave him positive feedback about developing the idea. The challenge was to design a technology which could ensure the microalgae would be in contact with polluted gases from the environment.
With the BioUrban system the pollution feeds microalgal growth. The system is programmed with a Logic Controller Board which is activated at specific times depending on the air quality, which is measured by a sensor. If the air quality is bad, the system can automatically increase its performance. It takes from four to six months for the microalgae cultivation to be saturated depending on the environmental conditions.
Microalgae trees
Some of the air purification units are designed in the shape of a tree and just one BioUrban 2.0 outdoor microalgae 'tree' has the same the air purification capacity as 368 eucalyptus trees, yet it takes up far less space, something which is at a premium in urban areas. One BioUrban 2.0 algae tree has a footprint of just 1.8m2.
BiomiTech 2.0 urban microalgae 'trees' are also fitted with air quality sensors and their performance is monitored via a web platform, so that company can collect information to show how much pollution the BiomiTech Urban Forest is capturing and turning into oxygen.
Circular economy
When the microalgae have run out of physical room to multiply and grow, the microalgal liquid medium is considered saturated and needs refreshing with water so that the cycle can begin again. When saturated, the microalgae become a viable biomass. This biomass can then become the raw material for energy generation, either by means of biogas production or for the production of third generation biofuels.
The BioUrban range can be used in outdoor and indoor situations, such as at underground stations, airports, shopping centres, in school playgrounds, lecture halls, ventilation and air conditioning systems, parks, road junctions, service stations, bus stops and hospitals. Anywhere there are high levels of carbon dioxide and air pollutants.
UK launch The Biomitech team won the Latam Edge Award 2018 and it launched its award-winning BioUrban range for the first time in the UK at the 2018 Clean Air Technology Expo in Birmingham, complete with a BioUrban microalgae 'tree' at its stand.
Orlando Monroy and Emma Greenwood, spokespeople for the Global Biomitech Project, were at the Expo to discuss the problem of urban air pollution and showed visitors how BiomiTech has applied its knowledge to create the BioUrban range. They also discussed microalgal feeding and growth cycles, why microalgae feed on the pollution, the outputs, for example, oxygenated air, and how to creatively use and add value to the waste microalgae, as well as how to create a circular bio-economy by creating biofuels from the algae biomass that feed on the pollution created by our modern urban activities.
UK Urban Forest
The company brought its technology to London and offered companies and organisations the possibility of owning, renting or sponsoring one of its microalgae 'trees' in any high pollution hot spot. London's air pollution levels exceed the WHO's recommended limits, so Biomitech believes that its BioUrban range could make a big difference. London has a small physical footprint, so it is a good place to start applying volumes of units. Biomitech says it can create local clean air spots and also affect the atmosphere by getting rid of substantial amounts of air pollution. It does this by calculating how much ambient air pollution is present and how many trees it would need to make a positive impact and bring air pollution emissions down to meet current legislation within five years.
In addition, the company then look at the amount of air that has been filtered and present the data on a web platform, making it easy see how much clean air is being created and how many more algae trees are needed to complete the project for that city. This concept is known as the BiomiTech Urban Forest.
The company's vision is to plant an Urban Forest of BioUrban 2.0 'algae trees' in the UK, beginning in London. The trees will be linked and will stream statistics to a master data management platform to generate insights and measure the success of the trees. This will enable intelligence-led decisions to be made so that the units can be placed where they will generate the biggest impact. The company's insights can be collated, aggregated and business intelligence supplied to clients so that they can measure their organisation's carbon reductions.
The BiomiTech project aims to plug the gap in current transport and urban living infrastructure air emissions, by providing clean air right now. It is clear that legislation is beginning to address pollution issues, but the company is more interested in making an immediate difference, as pollution levels are rapidly worsening.
New horizons
There are a variety of fields in which this technology could be applied in the future. Biomitech is currently doing tests to see if a BioUrban unit could absorb the ammoniac generated by chickens and pork in farms. The latter gas causes animal diseases, so removing them would be a direct benefit for the sector. The mining sector is also an opportunity to provide workers with a better air quality.
Carlos Monroy, CEO of BiomiTech, sums up the potential of microalgae air filtration."If we can convince civic leaders to share our vision, with the power of microalgae we can solve one of the biggest issues we currently face as a species and have had no answers for until now. Our intelligence as a species has meant our mass adoption of technology, transport and energy consumption, which is causing the problem of pollution. I hope we can use the same intelligence and tenacity of spirit to solve the problem that we have inadvertently created."