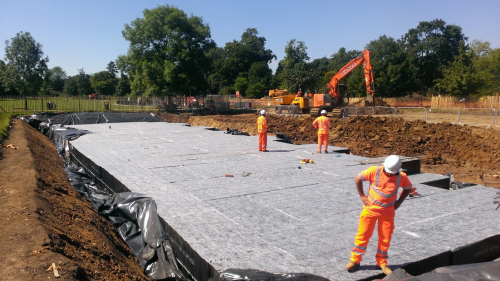 The project in Southwark, South London, has combined above and below ground temporary flood storage to protect two historic parks.
One of the main challenges was to ensure the chosen flood storage solution didn't compromise the natural appearance of the parks. This article looks at the load-bearing block systems selected for the tanks, and how they saved time, money and the parks' original appearance.
The project, led by Southwark Council, is designed to provide much-needed protection for Herne Hill and Dulwich, an area prone to flooding as a result of being in a low-lying catchment of the culverted Effra River – one of London's so-called lost rivers. The design involves the construction of above- and below-ground temporary flood storage to capture overland flow during periods of heavy rainfall. Above ground, a mixture of natural earth bunding and dwarf-brick retaining-wall structures were constructed in the Dulwich Park and at Belair Park a combination of earth bund and detention basins help to control peak surface water flows. However, a key element of the flood defences is underground geocellular block storage from Hydro International to provide a solution that is sensitive to the needs of the park locations.  
Look out for the full article in 2016
The digital edition of Filtration+Separation magazine is free of charge to readers who meet our qualifying criteria. Please complete this short registration form to apply for your copy.
Print copies of the magazine are available to purchase.