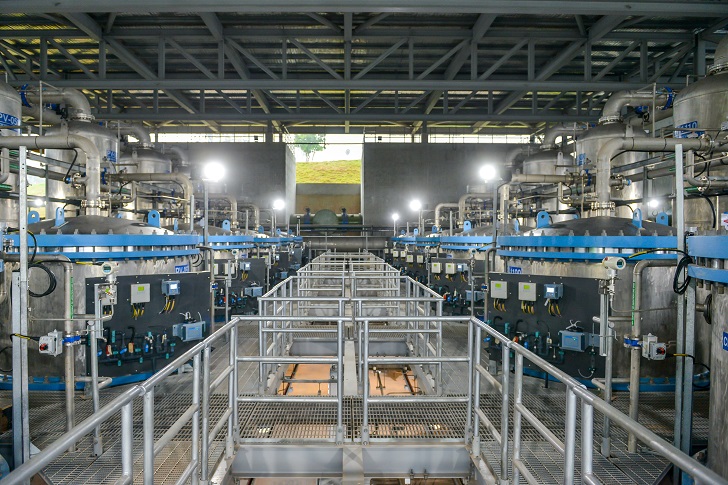 PUB, Singapore's National Water Agency, has inaugurated the upgraded Choa Chu Kang Waterworks (CCKWW), home to the world's largest ceramic membrane system.
The CCKWW ceramic membrane system treats up to 40mgd (million gallons per day) of water.
This large-scale deployment of ceramic filtration membranes follows more than a decade of research and trials in ceramic membrane technology to enhance CCKWW's water treatment capabilities.
"This reconstructed CCKWW, with its ceramic membrane technology, allows PUB to do advanced treatment of the tap water that we supply to homes, commerce and industry. That we are able to deploy this new technology on such a large scale is the result of years of research, experimentation and rigorous testing," said Ng Joo Hee, Chief Executive of PUB. "Advanced treatment technologies will allow us to cope with the impact of an increasingly urbanised catchment and the negative effects of climate change on Singapore's raw water quality."
One of Singapore's oldest water treatment plants, CCKWW was built in two phases in 1975 and 1981.
In 2008, CCKWW completed the first upgrade to replace sand filters with polymeric membranes, while PUB worked with industry partners to conduct trials on ceramic membrane technology.
A second upgrade of CCKWW started in 2016 to deploy ceramic membranes on a larger scale. The S$162 million project involved the construction of a new facility, installation of ceramic membranes and the inclusion of ozone-BAC treatment for the plant.
PUB says it will progressively incorporate advanced water treatment processes in Singapore's other water treatment plants when they are due for upgrade.