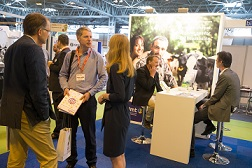 The UK AD & Biogas and World Biogas Expo 2017 will take place on 5 - 6 July at the NEC in Birmingham. It will be the show's seventh consecutive year as a global trade show for the biogas industry. Last year, the show was attended by participants from over 50 coutnries.
The global biogas market is estimated to be worth £1 trillion and energy security, climate change and the UN Sustainable Development Goals are driving the need to rapidly increase the uptake of biogas.
Located in the same hall as UK AD & Biogas, World Biogas Expo 2017 will have its own dedicated space, international pavilions and a conference area. UK AD & Biogas 2017 will retain its focus on the UK market.
Exhibitors throughout the combined event will be showcasing all the products and services required to upgrade biogas to biomethane for use as a low-cost, low-carbon transport fuel, as well as the latest biomethane vehicles and refuelling equipment.