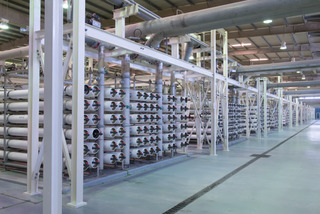 GE will provide ZeeWeed 1000 submerged hollow-fiber membranes and AG LF low-fouling reverse osmosis (RO) membranes for the Sulaibiya plant that will boost its production capacity from 375,000 to 600,000 cubic meters per day, making it the largest facility of its type in the world.
"The new expansion of the Sulaibiya plant using GE's advanced technologies will scale up its wastewater treatment capacity significantly with greater efficiency and reduced environmental footprint," said Heiner Markhoff, president and CEO, water and process technologies at GE Power & Water.
GE says the ZeeWeed 1000 system produces water that meets stringent standards while using fewer chemicals, reducing the environmental footprint and producing less waste.
It adds the AG LF series proprietary thin-film RO membrane elements are characterized by high flow, high sodium chloride rejection and low fouling surface properties which help resist degradation from water containing bacteria, colloids and other materials that foul and shorten membrane element life.