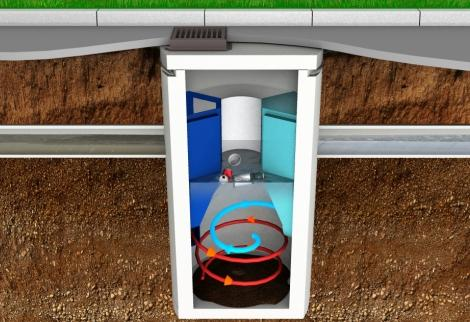 The First Defense is an enhanced vortex separator that can be fitted into standard 4ft and 6ft manholes and configured into an existing drainage line. It prevents pollutant washout at up to 500% of its treatment flow.
"Hydro's Downstream Defender advanced vortex separator has been approved by the City for nearly nine years enabling it to be specified throughout the state," said Lisa Lemont, business development manager of Hydro's US Stormwater division. "Now engineers can also leverage the space-saving advantages of the First Defense for sites with small to medium-sized stormwater quality runoff rates."
The First Defense is one of only a few devices approved for use in an online configuration in Indianapolis. It can accommodate higher flow rates without the risk of washing out the sediments and pollutants captured in the device, or causing surface water flooding.
The city's requirement for stormwater devices to meet a minimum 75-year design life was a particularly important as underground stormwater devices need to be robust to resist degradation in the extreme temperatures experienced in the state of Indiana.