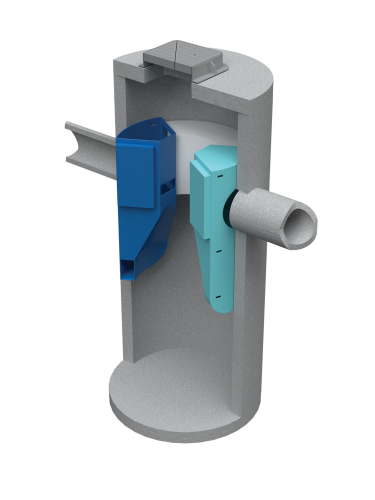 Hydro International's innovative First Defense vortex separator is now available for the first time in the UK in response to the growing need for economical surface water treatment on new developments, car parks and highways.
Already well-established in the US, First Defenseuses a gentle vortex action to remove coarse particles, litter and oil from surface water runoff – a requirement which will become increasingly important as a result of growing regulation for Sustainable Drainage Systems (SuDS) in future.
The First Defensehas been launched as part of the Hydro StormTrain Series of surface water treatment devices, a comprehensive toolbox for silt, sediment and pollutant removal as part of SuDS.
"By introducing First Defense, Hydro is adding a well-established, proven technology to its UK range of surface water treatment devices, creating the broadest choice of proprietary treatment products available ," said Alex Stephenson, director of Hydro International's UK Stormwater Division.  "First Defenseprovides an economical option where litter, oil and coarse particles need to be removed."
Designed and developed by Hydro, First Defense has passed stringent certification criteria of many US regulatory authorities.
Delivered as a pre-cast standard-size concrete manhole with internal components pre-fitted, First Defense delivers repeatable, predictable, at-source pollution control for small- to medium-size catchments with easy installation and minimal maintenance.
The internal components of the First Defenseare designed to create a low energy rotational flow within the chamber, allowing sediments to settle to the sump, while oils, floating litter and debris rise to the upper containment area.  Harmful pollutants are therefore captured safely within the device, protecting public areas.
The gentle action of low-energy vortex separation eliminates excessive agitation of captured pollutants, ensuring they are not resuspended during peak flows.  During peak rainfall events, the integral bypass also ensures pollutants remain within the chamber and are not washed out.
The orientation of the outlet can be adapted to suit site conditions.  Single and multiple inlet pipes are also available, along with an inlet surface grate for maximum design flexibility.
"Deciding on the correct SuDS-compliant treatment solution to meet the requirements of the catchment and receiving watercourse can be difficult," adds Alex Stephenson. "Hydro StormTrain Series offers a comprehensive range of options and the devices, including First Defense, that can be used individually or in combination to achieve an effective SuDS management train."
The expectations of the EU Water Framework Directive (WFD) are influencing the development of legislation in England, Wales and Northern Ireland, as well as driving the implementation of established regulations in Scotland.  In every case, the Hydro StormTrain Series offers future-proof SuDS-compliance.
Hydro has developed an online Treatment Selection Tool to help users examine the options and consider the likely consequences in terms of cost and pollutants. 
For more details visit www.hydro-int.com/stormtrain/tool.