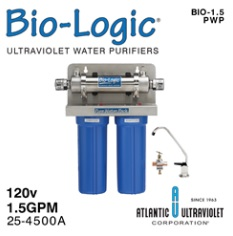 Rotatable heads make it different from any other unit on the market, the company reports. The flexibility of being able to rotate the head on either side of the chamber to match the existing water connection streamlines installation and results in savings of time and money.
The unit is designed for use in homes, recreational vehicles, boats, laboratories, vending machines, and other installations when processing small amounts of water ensuring it is pure and disinfected is key. 
The Bio-Logic Pure Water Pack is designed to be economical, compact, and versatile. It contains a two-part filtration process. A 5-micron sediment filter traps particles (dirt, sand, silt) for visually clear water appearance, and a carbon filter reduces chlorine, trihalomethanes (THMs) and pesticides ridding water of unwanted tastes and odors.
A stainless steel UV disinfection chamber to eradicate microorganisms. 
"For those people who want filtered and purified water, who want to stop buying bottled water, this product is designed for them," says Ann Wysocki, COO of Atlantic Ultraviolet. "The Bio-Logic UV Water Purifier and Pure Water Pack is designed for point of use installation, under any sink, and with the rotatable heads and the custom made mounting bracket the installation is easy."
The Bio-Logic units are available as a combination water purifier and dual filter system, sold as the Bio-LogicPure Water Pack, or a stand-alone water purifiers, BIO-1.5 or BIO-3.0. The Pure Water Pack includes the Bio-Logic 1.5 gallon per minute water purifier packaged on a mounting bracket in combination with two filters. This unit comes standard with an installation kit that includes tubing, saddle valve, and long reach stainless steel faucet.