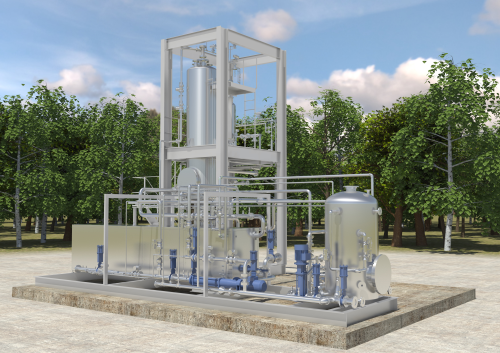 Thermal hydrolysis is a well proven pre-treatment technology for sludge digesters which increases digester throughput, pasteurises the sludge, enhances biogas production and reduces the final biosolids volume for disposal. Veolia's Exelys unit heats dewatered sludge to 165°C and holds it for 20-30 minutes.
Exelys is a continuous rather than a batch process. This means that the reactor volume is used for 100% of the time unlike a batch reactor which, because of the fill-react-discharge cycle, effectively operates at only about 30% utilization, and with less concentrated sludge. As a result, the Exelys reactor can treat over three times the amount of sludge solids compared to a similar sized batch reactor.
Continuous operation means that the steam demand is constant, which improves boiler efficiency and, since Exelys can handle higher sludge concentrations than batch systems, the steam demand per tonne of dry solids is lower.
The Package Exelys range has four standard plants with dry solids capacities up to 30 t/day. The plants have all the features of the Exelys process but are assembled at works off-site on skids and include feed sludge heating and steam injection equipment.