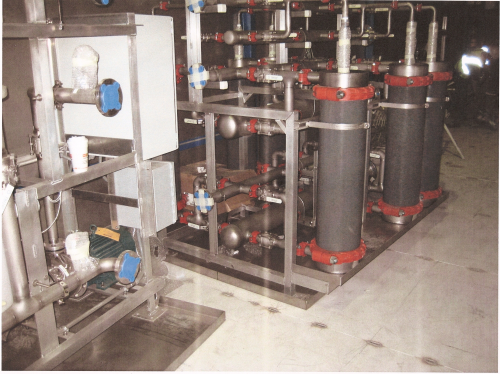 The ultrafiltration system from Koch Membrane Systems is used for paint recovery, paint bath control, and hazardous waste minimisation at the plant's new electrocoat/phosphate facility. The KPAK modules increase the capacity of the electrocoat paint system by about 68%. The new facility is part of a major $750 million expansion of BMW's South Carolina factory, which will add 1.5 million square feet (140,000 square metres) and an expected 500 new jobs on-site to produce three models and to increase production capacity.
Koch Membrane Systems adds that the KPAK UF system completely replaces the plant's existing ultrafiltration system and offers BMW several benefits compared with the old system. These include increased energy efficiency, provisions to allow 100% of flow over the membrane surface, improved cleanability of the UF modules, and a safe, easy installation. Also, the KPAK UF system's efficient operations allow paint recovery to be maintained at more than 95% within the closed-loop rinse system, which reduces wastewater treatment plant load, ultimate disposal costs, and environmental impacts.
Koch Membrane Systems has delivered two ultrafiltration skids designed to generate a total of 57 gallons per minute of permeate, to be used for grey cathodic electrocoat. Each skid was designed by Koch Membrane Systems to clean one spiral membrane module at a time during production without shutting down the system. The plant's old system required shut down and cleaning during non-production periods.
The KPAK modules feature a 'potted spiral' design, in which the spiral-wound membrane is secured with epoxy to the inside of a PVC shell, forming a single, integrated structure. The potted construction allows for zero bypass of paint or cleaning solution, resulting in maximum use of paint and good energy efficiency, as well as improved cleaning. The increased membrane area packaged in the module enables greater turbulence during cleaning, leading to enhanced flux recovery. Together, these features can lead to higher permeate rates, says Koch Membrane Systems.