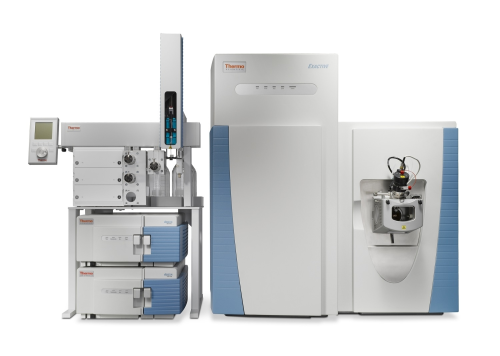 EQuan MAX from Thermo Fisher is a comprehensive solution for the analysis of pesticides, pharmaceuticals, personal care products, endocrine disruptors and perfluorinated compounds in environmental water, drinking water and beverages. With EQuan MAX, samples are directly injected for LC/MS analysis, eliminating the need for off-line sample pre-concentration.
The high resolution and accurate mass (HRAM) EQuan MAX system from Thermo Fisher offers screening and quantitative capabilities which provide enhanced system flexibility and productivity. EQuan MAX combines with the power of the Exactive LC-MS system, a high resolution benchtop LC-MS system powered by Oribtrap technology which is designed for high throughput screening of target and non-target compounds. In addition, the EQuan MAX can also be used with the full range of Thermo Scientific TSQ series triple stage quadrupole mass spectrometers.
The large injection volume (1-20 mL) improves detection limits over conventional LC-MS analysis. In addition to large injection volumes, EQuan MAX now supports injection volumes as low as 1µL. Switching between injection volumes can be automated for overnight operation and increased productivity, without the need to manually change plumbing configurations.
Dipankar Ghosh, strategic marketing manager for environmental and food safety solutions at Thermo Fisher said: "Exposure to chemical contaminants in beverages and water is a significant and growing concern. As new contaminants emerge, labs performing water and beverage analysis will be challenged to detect and quantify both target and non-target contaminants, and to do it faster than ever before. EQuan MAX enables laboratories to do both."