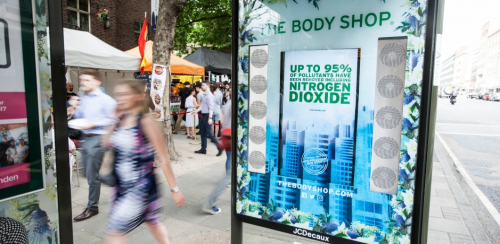 The initiative is a collaboration between The Body Shop, Airlabs, outdoor advertising company JCDecaux and media agency Maxus. It will see The Body Shop advertising equipped with Airlabs' air cleaning technology installed at bus stops in New Oxford Street, Tottenham Court Road and High Holborn, helping to reduce air pollution for passengers waiting by the road for their bus.
The Airlabs technology is a multi-stage treatment of polluted air designed to create clean air zones in polluted cities. Particles (PM2.5) are trapped by a tailored filtration system before gas pollutants, such as nitrogen dioxide (NO2), are absorbed by specialist media within the units. The Airlabs technology is reported to deliver NO2 removal rates of more than 95%.
"It is estimated that a Londoner's life expectancy is reduced by as much as 16 months owing to the harmful effects of air pollution," says Sophie Power, CEO & Co-Founder of Airlabs.
"Currently, 3.8 million people, 44% of the city's working population, work in parts of London which are above the legal limits for NO2. It is vital that more is done to address this issue, and it is our view that by working with the government and other key stakeholders a viable solution can be developed to provide better quality air for the city's population. We believe this project will showcase the role our technology can play in reducing the levels of exposure the city's population is being exposed to."
Pollution hotspots, areas of poor ventilation and high emissions where pollutants build up, are the target areas to create a zone of clean air, Airlabs explains. The company uses sensor measurements, as well as atmospheric data and airflow models to understand the area to be cleaned. Its engineers then use computational modelling as well as atmospheric chemistry expertise to work out how best to clean the air effectively and create the zone required. Based on these results, the Airlabs design team develops units to fit into the urban landscape.
"While these air cleaning units have yet to be introduced on a wider scale, we're making a start to help protect Londoners from air pollution exposure, as well as help raise awareness of this incredible technology available," comments Elen MacAskill, The Body Shop UK Marketing & Corporate Responsibility Director.
"We are calling on other businesses, transport operators, bus stop site owners and brands to follow this industry leading approach. The technology can help reduce urban pollution exposure for thousands of people every day where nitrogen dioxide levels exceed the legal limit."