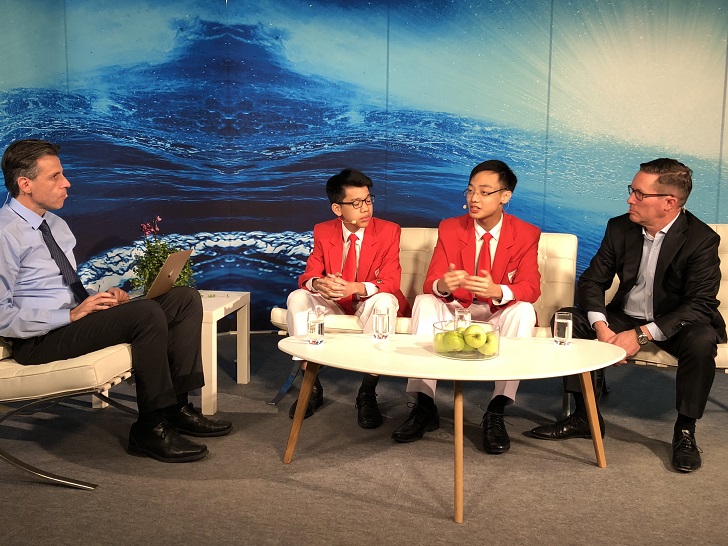 Singapore's Caleb Liow Jia Le and Johnny Xiao Hong Yu have won the 2018 Stockholm Junior Water Prize (SJWP) for their project entitled "A Novel, Eco-friendly Synthesis of Reduced Graphene Oxide (rGO) from Durian Rind and Sugarcane Bagasse for Water Filters."
Their study used durian rind and a sugarcane bagasse to produce rGO, a material that can effectively purify water.
HRH Crown Princess Victoria of Sweden presented the winning students with a US$15 000 prize and a sculpture at the recent annual World Water Week in Stockholm, Sweden. Their school, Ngee Ann Polytechnic, will also receive a US$5000 grant.
Xylem has been the founding global sponsor of the SJWP international competition since it started 22 years ago.
"All of the Stockholm Junior Water Prize finalists bring enormous energy and focus to this event along with their innovative ideas," said Patrick Decker, president and CEO of Xylem. "Each year, we are inspired by their impressive work that pushes the boundaries of what's possible, which makes us so proud to support this unique competition. Their drive to solve a water issue that may be close to home or across the globe illustrates that working together, we can overcome these challenges."
The Diploma of Excellence went to Tatsuyoshi Odai and Narumi Sakamoto of Japan for their project entitled "The New Green Revolution: Hybrid System of Phytoremediation and Food Production in Eutrophicated Ponds/Lakes." This team will receive US$3000.
The international SJWP is presented each year to students between the ages of 15 and 20 for outstanding water-related projects that focus on topics of environmental, scientific, social or technological importance. Winners from 32 countries competed for the international honour in 2018, which was awarded by an international jury of water professionals and scientists.
The prize is administered by the Stockholm International Water Institute.