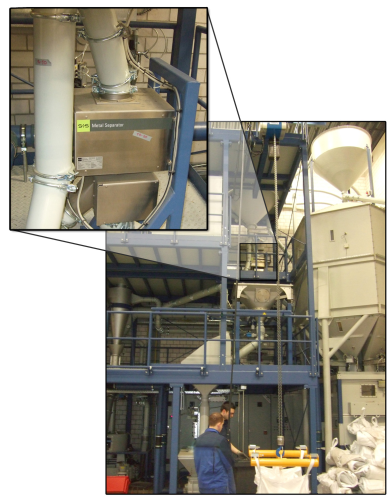 Probat-Werke von Gimborn Maschinenfabrik GmbH uses the separator in the raw coffee line of its demonstrations and test facility as part of quality assurance.
The RAPID 4000-FS metal separator is integrated in free-fall conveyor pipes to inspect dry bulk materials. It can detect all magnetic and non-magnetic metal contaminants (steel, stainless steel, aluminium), which, once detected are removed by the separation unit. Separation is performed without any interruption in the material flow.
The separator features a low overall height and can thus be easily integrated into existing pipeline systems. The detection and separation units are designed as two separate components; the free-fall height is therefore individually adapted to local conditions. The reject outlet can be rotated to suit the position of the collecting container and standard Jacob pipe connections allow installation with reduced effort. For improved product effect compensation, the metal detector features both auto-learn and manual adjustment.