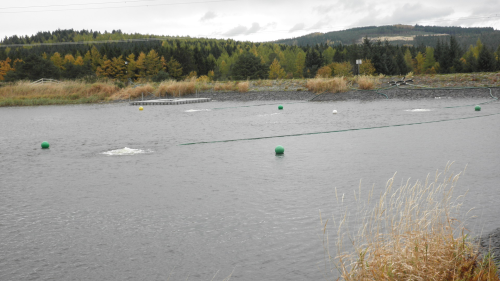 Scottish Water has purchased three advanced Aquaerator aeration and mixing systems from Aquarius Marine Group (AMG), a world specialist in lake aeration, to improve water quality in Aberdeenshire's Craighead Reservoir. 
The new 'Aquaerator' technology, developed and installed by AMG, will help combat thermal stratification and increased levels of iron and manganese, a common issue for reservoirs and lakes during the summer months.
Scottish Water expects to see water treatment cost reductions and less dependence on expensive chemical interventions at the local water treatment works. Selecting the solution from AMG will provide Scottish Water with a more environmentally sound and cost effective solution to water quality and oxygenation.
Scientifically proven, the Aquaerators work by mixing air and water horizontally just above the bed of the reservoir, above the silt layer, to form a powerful rotating plume. The bubbles aerate and mix the de-oxygenated bottom waters to introduce oxygen and return metals and manganese held in suspension to the silt at the bottom.
Don MacLean, project manager, Scottish Water explained: "We are excited to discover how the new Aquaerators perform at Craighead Reservoir and see a number of other opportunities where this new, environmentally friendly, technology can help improve water quality for our customers.  Aquarius Marine Group has demonstrated a highly knowledgeable and in-depth understanding of our water quality issues and were even able to reuse elements of our previous treatment system in their design.''
Tony Wynes, managing director of AMG, said: "We are delighted to be working with Scottish Water. Thermal stratification in lakes and reservoirs is a significant issue for Water Companies and costly to deal with if chemicals are used. The development of our new Aquaerator, we believe, will bring long term improvements to water quality with minimal impact to the environment and significant long term cost savings for the industry." 
Why not sign up here tinyurl.com/mnc7d6p to  receive  unrestricted Free access to the content on Filtration+Separation.  It will only take a few moments, and you will gain access to the digital edition of the magazine as well as a whole host of special features, news and more.