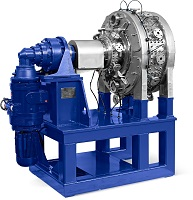 With the smallest sized RPF P01, the company offers a compact but otherwise completely identical version of their proven rotary pressure filter (RPF) for the continuous filtration and separation of suspensions.
The RPF P01 rotary pressure filter is particularly suited to pilot tests for process preparation, as well as small-volume production and batch tests. Due to its identical design, the complete future scale-up of settings to larger production filters is ensured. This allows the design of large-scale production facilities in chemical, petrochemical, and pharmaceutical applications, as well as in the food industry. For example, the pilot filter will be used in Germany in the production of sugar substitutes, for example.
Type RPF rotary pressure filters enable the continuous filtration of nearly all suspensions in complex production processes. A large number of process steps take place during one drum revolution, such as separation of the suspension into filtrate and filter cake and single- or multi-stage cake washing. All process steps are performed in separate, pressure tight segment zones inside the filter. As a result, the cake can be discharged directly at atmospheric pressure – separate pressure equalization, for example via airlocks, is not required.