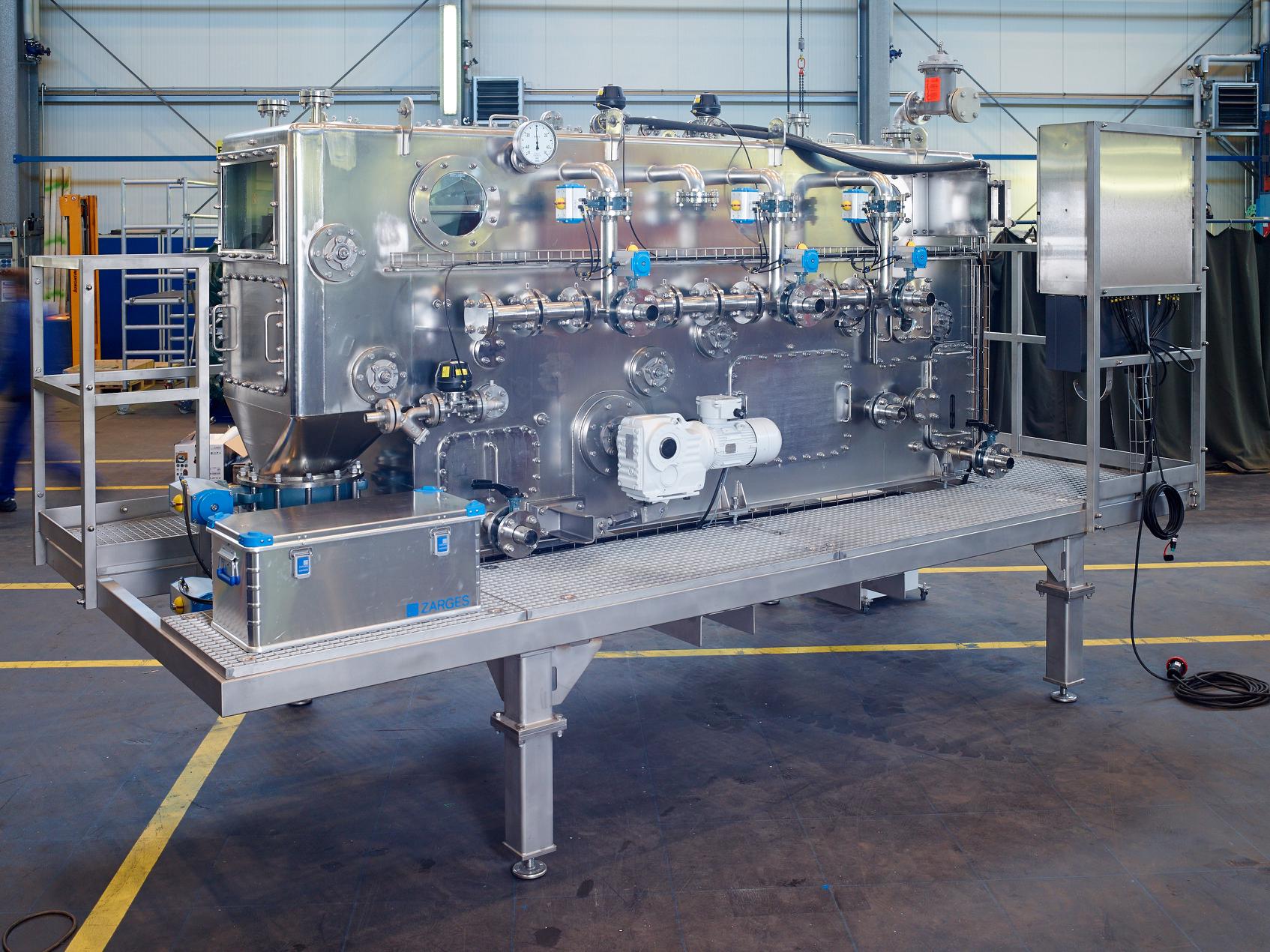 BHS-Sonthofen will showcase its technologies and services for solid-liquid filtration applications at ACHEMA 2018 in Frankfurt on 11-15 June.
The company offers a range of filtration solutions for cake filtration processes, and supports customers in selecting the most suitable filter technology based on tests carried out using its own laboratory and pilot filter systems. Visitors to the BHS stand will see a rotary pressure filter (RPF) as a pilot filter system and an indexing belt filter (BF) as a lab filter system.
Opting for the right technology in solid-liquid filtration plays a key role in increasing efficiency and process optimization in large plants, the company explains. Its product range includes rotary pressure filters, indexing belt and rubber belt filters, and candle and pressure plate filters.
"We consider ourselves specialists in solid-liquid filtration, rather than restrict our expertise to just one particular technology," says Detlef Steidl, Director of Sales, Filtration Technology at BHS-Sonthofen. "The technical process required by the customer determines which respective technology is used. Therefore, we see weighing up different alternatives against each other with the customer as one of our central tasks, before we select the best solution for the specific case, and implement it."
Laboratory tests and pilot systems 
An extensive analysis of the existing processes is carried out at the start of every new project. Potential solutions are investigated in laboratory tests and pilot systems before the appropriate machine can be installed.
This is indispensable when switching from batch production to continuous production, for example, a trend the company has been seeing with many customers. It offers solutions for both batch and continuous processes. 
At ACHEMA the filter systems shown represent two alternative processes: filtration using pressure and filtration using vacuum. The rotary pressure filter presented offers continuous filtration of different suspensions in complex production processes. The indexing belt filter is a continuously operating, horizontal vacuum filter that allows for reliable and gentle separation of sedimentation solids.
Rotary pressure filters 
A number of process steps occur during a single rotation of the rotary pressure filter drum, such as separating the suspension into filtrate and filter cake, single- or multi-stage cake washing, reslurrying, solvent exchange, steaming, extraction as well as mechanical and thermal cake dewatering. All of these steps take place in separate, pressure-tight segment zones inside the filter. This also allows the cake to be discharged directly to the surrounding area at atmospheric pressure without the need for separate pressure compensation via pressure locks, for instance. In addition, it enables the precise drainage of filtrates in discrete zones.
In the pharmaceutical industry, the rotary pressure filter is currently used in the production of antibiotics and medical contrast agents. BHS-Sonthofen reports that one antibiotics manufacturer reported a productivity increase of 150% thanks to a switch to continuous production and the use of a rotary pressure filter of type RPF P02, with a tangible reduction in active ingredient losses at the same time.
Pilot filters 
BHS will present the RPF P01, which is said to be a compact, yet structurally identical version of the tried-and-tested rotary pressure filter. The identical design ensures that the settings are fully scalable to larger production filters at a later stage and thus facilitates the development of large-scale production systems for chemical and pharmaceutical applications or for the food industry. The system allows for optimizing each individual process. The operating principle of BHS rotary pressure filters results in a low consumable requirement.
Applications for rotary pressure filters include intermediate plastic products, pharmaceutical products, paints, pigments and cellulose products. Single-batch production of pharmaceutical standard is made possible by supporting counter-current washing, displacement washing and closed-cycle washing during the filter cycle. Rotary pressure filters can also be used in the production of spices, sugar substitutes and extraction processes in the food industry.
Indexing belt filters 
The indexing belt filter, on display in its laboratory size at ACHEMA, is used as a continuously operating, horizontal vacuum filter for separating sedimenting solids from suspensions. The filter cake formed on the conveyor belt can be further processed in many ways. The design facilitates uniform suspension feeding via optimized distribution devices that introduce the solids into the process.
Indexing belt filters from BHS are utilized in the pharmaceutical industry in the production of antibiotics, natural extracts and hormone derivatives, among other things. Suspensions are processed in closed and inert systems. Indexing belt filters can also be found in the production of many minerals and the extraction of biofuels. BHS will present an indexing belt filter of type BF 010-010B at ACHEMA.