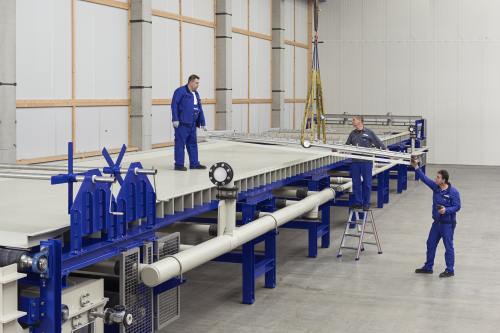 With a filter area of almost 90 m², the BF 350-255 filter plant is the largest that BHS has ever built.
The BF 350-255 indexing belt filter will process up to 5000 kg of fibrous plant waste hourly, extracting recoverable liquid components generated in a previous production process. The filtrate is used for the manufacture of basic chemicals, while the remaining solids, which could not previously be used, are reprocessed.
During project planning, the customer had initially envisaged a multi-stage process with a sequence of consecutive screening and filtration steps and with the solids being resuspended several times. Instead, BHS-Sonthofen proposed an indexing belt filter with a single process step. The simpler process allows greater concentration of the reusable substances, which means less energy is required for extracting the substances at a later stage.
BHS-Sonthofen received the order in December 2015, and supplied the filter plant in spring 2016. Commissioning is planned for autumn 2016.