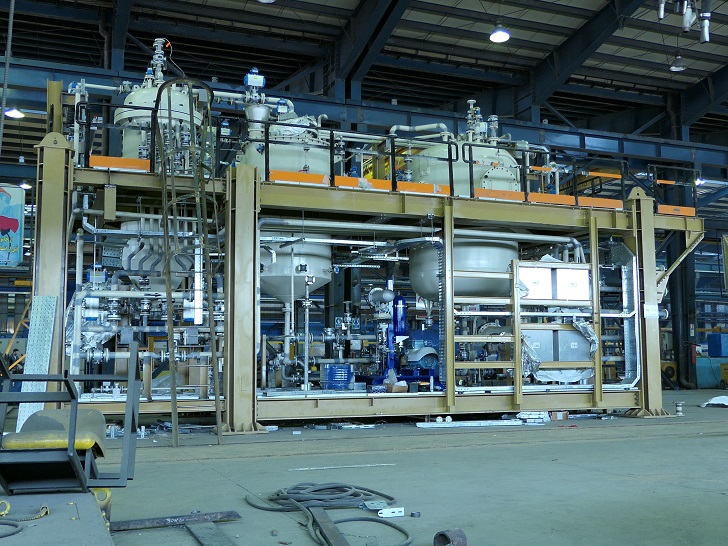 Germany's BHS-Sonthofen and its Iranian sales partner Faris International have delivered five filter systems for use in natural gas production in southwest Iran.
The BHS-Sonthofen full turnkey systems, which combine several process steps for processing amine in one closed process, were accepted at the end of April for a new gas refinery which is currently being constructed in Iran under the Bid Boland II project.
BHS-Sonthofen's turnkey concept consists of three process steps. A candle filter separates the smallest particles from the amine solution that has been introduced. After the pre-cleaned amine solution has passed through the candle filter, the hydrocarbons are removed in the activated carbon filter. The activated carbon residues are then removed in a polishing filter in the final step. BHS-Sonthofen supplies the three filters and a precoating unit as a complete preinstalled one-point lifting unit. The filters are ready for immediate use after connecting them to operating resources and feeding in product streams.
"System assembly is usually carried out in Germany entirely," said Tim Ochel, project manager at BHS-Sonthofen. "But there was one restriction for this project: You can only import components that can't be manufactured in Iran. That's why we looked for and found a strong local partner."
BHS-Sonthofen fully engineered and designed the five systems. The containers, steel constructions and piping were constructed by local suppliers with the support of Faris International. Special components that were not available within Iran, such as pumps, valves and measuring instruments, were shipped from Germany. Final assembly was carried out near Tehran under the supervision of BHS engineers.