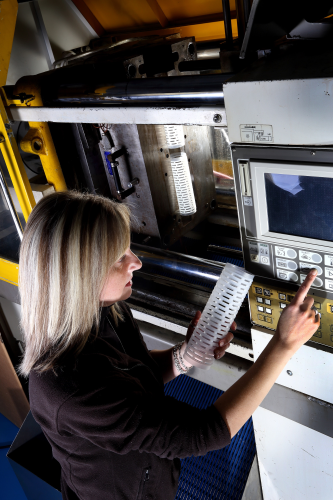 Porvair Filtration Group has invested in 42,000 ft2 premises in New Milton, Hampshire, UK, creating around 20 jobs in the process as part of a strategy to consolidate its industrial process business across one site. Member of Parliament for New Forest West, Desmond Swayne will officially open the 42,000 ft2 base at a reception on Friday 20th March.
Significant milestone
Commenting on the importance of the New Milton base, general manager Mike Hughes said: "This represents a significant milestone for our business. It will increase overall capacity within the group, facilitate growth across the business and provide a platform for further expansion. "It will strengthen our capability to meet the growing demands of our customers across a wide range of sectors including pharmaceutical, chemical and industrial processing, and food and beverage.
Porvair Filtration Group's managing director, Tom Liddell added: "This investment is a strategic step forward which will increase our capability to design and manufacture our products in line with customer expectations. I'm confident that both our staff and customers will see our investment as a commitment technical excellence and customer service."
Further capacity
As well as integrating Porvair's industrial process operations, the new facility will provide further capacity at Head Office in Segensworth to support the company's growth plans in the Energy and Aerospace markets.
The company currently employs 50 staff in New Milton across separate units, and the new building will see staff numbers increase to 80 when Porvair moves its microfiltration business from Segensworth to the new facility in Hampshire this March.
Porvair – which has supplied the process industry with performance-driven filtration equipment for over 25 years – has spent £3.5million on purchasing and fitting out the building, turning it into a cutting edge facility, including an investment of £300,000 in cleanroom technology